Ready to grow your business and brand portfolio?  Mr. Peel, Incorporated makes it easier than ever to create your own line of private label infused oils! Made for anyone and everyone who loves a little something extra for their food, these oils are sure to be a huge hit and there is a flavor available for everyone including: Pizza Oil, Spicy Sriracha Oil, Roasted Garlic Oil, Mediterranean Garlic Oil, and Basil & Sun Dried Tomato Oil.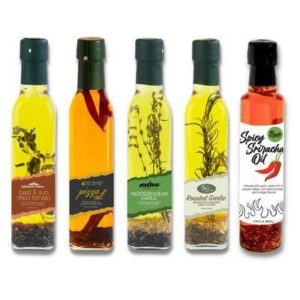 All of these flavorful infused oils are made with a carefully crafted canola oil and extra virgin olive oil blend that gives them both rich flavor as well as a high smoke point, which means you can sauté away to give all your favorite foods a little extra zing of flavor. Not only do they taste amazing, but these oils are made with all natural ingredients and has over 90 milligrams of OMEGA 3 fatty acids that have all kinds of health benefits including lowering depression and anxiety, improving your eye and vision health, promote overall brain health, and more. All that to say– using these oils for cooking, dipping, or sautéing will go a long way for your health and your taste buds.
Infused oils are perfect for every stage in the cooking process from marinating your meats to a finishing drizzle over top your favorite soup. With such a wide range of rich, delicious flavors, you can use them for any dish and simplify your cooking process by saying goodbye to all those jars of spices and hello to an all-in-one flavoring and cooking agent.
As if it can't possibly get better, these oils are bottled inside the United States just outside of Atlanta, Georgia. All of the herbs used in these oils are bought from local sellers and dried in house through a natural dehydrating process, then are hand placed in every bottle to ensure freshness and the perfect ratio of flavors for every batch.
Ready to start your line of infused oils yet? With no setup fees and no design fees, Mr. Peel, Incorporated makes it as easy as choosing your flavors, giving them a name that fits your brand, and providing your logo for our design team to do the rest. Want to design your own label for your infused oil? No problem! We've created a label template for you and your team to get the creative juices flowing. It's no secret that when you sell your own brand, repeat orders, exclusivity and customer loyalty are ensured. This program also offers quick lead times with a 3 case minimum (6 bottles per case) to keep both you and your customers happy. For more information on Mr. Peel, Incorporated visit https://www.mrpeel.com/ or call us at 888-994-4664.