NEW Ready to Bake Brownies for Pizzerias
Now pizza operators can bake up irresistible brownies in no time with Krusteaz Professional Ready to Bake Brownie Batter in a Bag. Consumers crave indulgence. Something made just for them. Oven-fresh brownies are a profitable companion to pizza – 84% of consumers like/love brownies (Source: Datassential Snap! Brownie Report 2022 ). Yet with today's need for flexibility, even thawing and slacking frozen product can be too much to handle. And the results aren't the same as fresh-baked.
The Krusteaz Professional team has listened to countless customers and field-tested our Ready to Bake Brownies extensively in commercial pizza ovens. The result of this collaboration with foodservice operators is finally here: NEW Ready to Bake Brownie Batter in a Bag.
So easy, anyone can bake it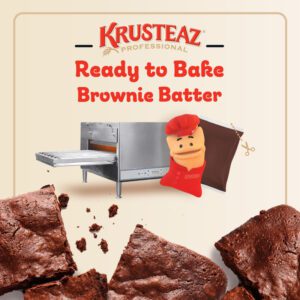 The brownie batter bakes up perfectly fudgy with a flaky paper top when popped in a standard pizza impinger oven. Anyone can simply POUR. BAKE. AMAZE!™
Less labor.
No measuring
No mixing
No training
No messy cleanup
More flexibility.
Bakes in standard pizza impinger oven
No thawing or slacking
Easy to include stir-ins
Makes various sizes and shapes
Ideal for meal deals and holiday promotions
No preservatives
4-day storage (when baked and wrapped)
10-month refrigerated shelf life!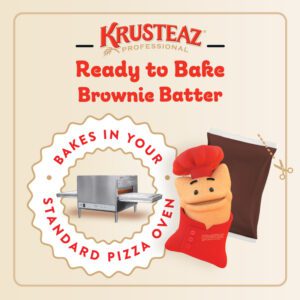 More delicious.
Perfect paper top
Chewy, fudgy texture
Chocolate chips in the batter
With the bulk of the work done, operators can easily stir in simple ingredients on hand like bacon or pineapple to create plus-one promotions. View recipe ideas here..
Simple to customize
With such a versatile batter, there are countless ways for pizzerias to drive traffic and boost check totals. Bake in various shapes and sizes for a point of differentiation. Offer family-sized pans for sharing as well as snack-sized indulgences. And be sure to feature brownies prominently on ordering apps and display baked brownies near the register to entice impulse purchases.
100% usable
The flexible format allows operators to bake only what they need, keeping food costs in line. Simply scale portions to meet demand. To further the savings, mix in perishable ingredients before they perish (e.g. pineapple). Unopened bags have a 10-month refrigerated shelf life and baked product stores up to 4 days, tightly wrapped.
Any pizza operation that offers desserts should consider the profit potential of switching to Ready to Bake Brownie Batter in a Bag.
Request a sample: krusteazpro.com/brownies-and-pizza
About Krusteaz Professional
Krusteaz Professional: On-trend, creative baking mix solutions backed by exceptional culinary support and over 90 years of baking expertise. Makers of the #1 recommended baking mixes in foodservice (Datassential Report 2022). A Seattle-based, family-owned business that started in 1932, we offer consistent quality year after year, providing inspiration in every single bite. Learn more at krusteazpro.com and linkedin.com/company/krusteaz-professional. Email us at KRPro@continentalmills.com or call 888-840-7627.