Drive Delivery with LiveMaps
The success of your POS starts with selecting the right tools. See the difference a system built for delivery can make.
Manage deliveries with live maps and traffic information
SpeedLine LiveMaps™ improves delivery efficiency and controls costs for restaurants. Your drivers will perform better with instant ticket information and directions sent directly to their smartphones. They simply click on the address link, and select their favorite navigation service to direct them to the correct location. Even new or fill-in drivers won't get lost!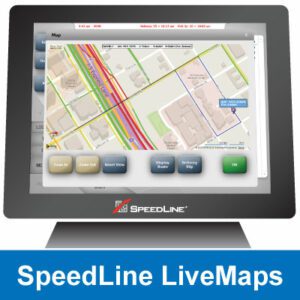 The system helps curb driver abuse too, with the option to pay driver fees based on optimal route distance, rather than a self-reported odometer reading.
Control deliveries and drivers efficiently with visual dispatch.
Visual expediting lets drivers handle more orders in the same time.
Visual Dispatch
Dispatching delivery drivers from a map view is simply more intuitive than a list of orders on a screen. Dispatchers don't need to know every street; they can easily group orders together for delivery by touching pushpins on the map.
Estimated return times for each driver are displayed on the screen, which helps managers and dispatchers time orders to be ready when drivers return.
Delivery Zones
Always charge the right delivery fees with custom delivery zones. Need changes? Just click and drag to adjust zone boundaries at any time. When an order is placed, LiveMaps will auto-assign the customer to a zone based on address, and will charge the specified fees for that zone.
Ensure you're covering costs by assigning minimum charges for distant zones, and keep drivers safe by restricting deliveries to daylight hours in high-crime zones.
Drive profitability with visual analytics
Heat map views of delivery performance highlight problem zones and neighborhoods.
A map view of customer coupon usage helps you target mailings effectively. See where your sales are coming from!
Integrated Caller ID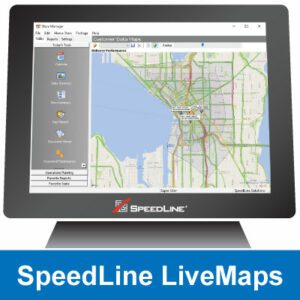 Faster, more personal customer service is the key reason why pizza operators invest in caller ID. Integrated Caller ID speeds service by eliminating the need to ask callers for their phone numbers to enter them into the system.
It can also display active orders quickly when a customer calls to inquire about their order, or display a record of incoming calls so missed calls can be returned.
Set Accurate Expectations
Keep your customers in the loop! Quote accurate delivery and pick-up times for every order—updated automatically based on kitchen volume. Warning colors let you see instantly when a delivery has been waiting too long or a driver is late returning.
Send an automatic delivery confirmation message once a customer's order has been dispatched, to let them know. Based on an intelligently mapped route, you can even let them know what time it will arrive!
Third-Party Delivery
Third-party delivery services like Uber Eats and GrubHub are now a fact of life for many restaurants. Unfortunately, most of these orders come in on tablets not connected to a POS, and have to be transferred manually. This takes staff away from other duties, and increases labor costs, as well as mistakes.
Integrating third-party ordering with SpeedLine POS relieves a lot of pressure, especially during peak periods. SpeedLine's trusted technology partners funnel third-party orders directly into the POS, where they print in the kitchen just like other orders.
SpeedLine Pay
SpeedLine Pay is a mobile app + card reader solution that lets you accept chip card payments wherever your customers are: on their doorstep, curbside, or at a dining room or patio table.
It's a win-win: customers get the convenience and credit card security they want, and your business could save hundreds of dollars each month in lower card-present processing fees and reduced chargebacks—including online payments.
Reporting and Analytics
Get up-to-the-minute delivery performance stats at a glance, or delve deep into SpeedLine's delivery reports to analyze your delivery operation over time. Delivery-focused reports include:
Driver out the door time, on the road time, percent on-time deliveries, run size, and wait time between runs
Percent late deliveries per time period
Detailed ticket-level summary for the day's deliveries
Hourly order type sales
Driver fees and mileage (by odometer and by suggested route)
Tip totals
Fine tune your delivery service and increase profit
Your drivers don't get lost. Even new drivers!
Your customers know when to expect their orders—even in rush hour.
And your deliveries are on time.
Contact SpeedLine for more information on what SpeedLine LiveMaps Visual Dispatch can do for your restaurant delivery service:
About SpeedLine Solutions Inc.
The world market for pizza is $128 billion each year. Restaurant delivery is growing in pizza and explosively in the restaurant industry. That's great news for SpeedLine users, where our local team develops, markets, and supports the industry's leading point of sale solution for this large, technology-hungry industry.  SpeedLine continues to successfully provide software solutions to thousands of pizza, quick service, and multi-concept restaurants and chains.