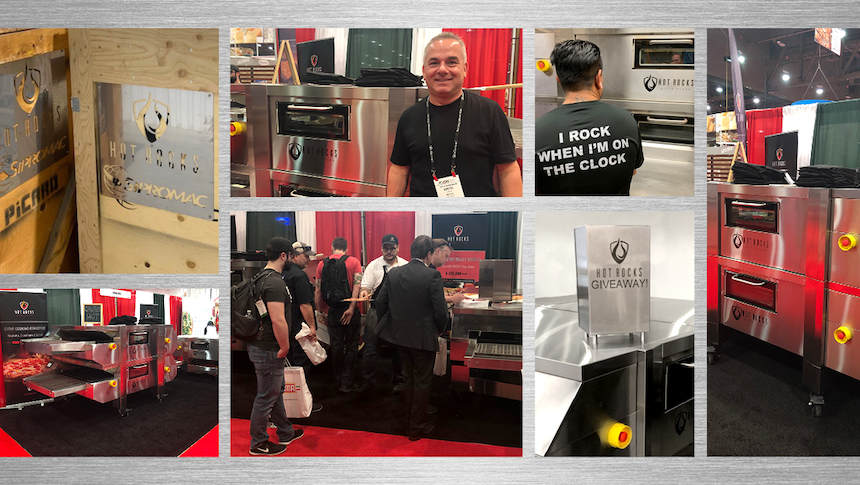 Drummondville, January 13th 2020 – Mark your calendars! The biggest event of the pizza industry, The International Pizza Expo is back and Hot Rocks STONE conveyor ovens will be at booth 1015!
For the 3rd year in a row, Hot Rocks is giving away a $35K STONE conveyor oven to one lucky winner! Some say it's a hoax but it's real – Joe Longo of Joey's Italian Grille is Rocking his free oven!
The Hot Rocks is a STONE conveyor oven and it is taking the pizza industry by storm. Imagine combining the speed and convenience of a wire mesh conveyor with the quality and authentic taste of a deck oven. The result is just out of this world!
For 3 days, the Hot Rocks ovens will be fired up and ready to Rock everyone's socks off! Attendees are welcome to bring their own dough and ingredients to experience for themselves just how much of a Game Changer the Hot Rocks would be for their business.  There is a risk – once they have baked with the Hot Rocks, there's no turning back to their old ovens, they will be convinced!
"The International Pizza Expo is exciting for us – for the past 5 years, we've been showing our STONE conveyor oven to all of you passionate pizza men and women. The Hot Rocks is all about creating value and providing technological advancement to drive success and better everyday life." says Vincent Tourigny, Owner & CFO.
Consistency, quality, speed and best of all, happy customers and profits are all part of the Hot Rocks package.
What do you have to loose, register to win it HERE, stop in to see us at the Pizza Expo booth 1015 or If you can't make the trip, you can always come to our very own Test Kitchen or visit one of our Test Kitchen Partners.
About Hot Rocks Pizza Ovens
Hot Rocks is a spin-off of Picard Ovens that is exclusively dedicated to the Pizza Industry. With over 60 years of experience in the baking industry, we manufacture high quality ovens in North America and offer the best service in the industry. Innovation is key to our success and we specialize in improving the pizza restaurant operations. The Hot Rocks STONE conveyor oven is the result of many years of R&D combined with concrete customer insight to redesign the conventional pizza oven that is now revolutionizing the pizza oven industry. Hot Rocks Pizza Ovens