A Little Saucy: Secrets to a Good Red Pizza Sauce
Red sauce, marinara, pomodoro, gravy.  There are so many different ways to say it and even more to make it. A pizza maker's sauce is one of their most important recipes and often times a very personal thing.  My mom still makes hers the way my Sicilian grandfather taught her.  The secret ingredient: a fried egg in it that they remove before slathering the sauce onto pizza or pasta.  
What one puts into theirs often reflects a person's cooking style. It can be as simple as plum tomatoes, salt and a pinch of oregano or becomes really complex by adding everything from anchovies to hot honey.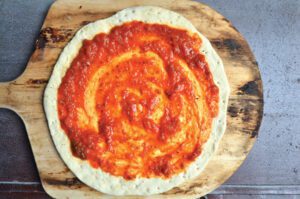 For me, a sauce recipe really comes down to the tomatoes you use. The final product will only be as good as the quality of the fruit you put into it. Luckily for all of us American pizza makers, there are a few different companies that sell fantastic canned tomatoes. If you buy good quality tomatoes, you don't need to add sugar or even a lot of salt to make your sauce pop. If you do want to increase the sweetness, a great way to do that is to add a thick tomato paste. Depending on your ratio to crushed or whole plum tomatoes, this can change the consistency of your sauce slightly, but I think it's worth it for the robust burst of natural sweetness it provides. Another way to enhance the flavor is by simply sprinkling grated Pecorino or Parmesan cheese onto your red sauce as you are making your pizza.
Of course, you can always make your own sauce out of fresh tomatoes, but the growing season really only lasts from July to September. This means unless you are canning your own tomatoes during this stretch, you should be buying them, or they will not be the best quality.  
Canned tomatoes come in various forms. Generally, they are all plum or pear style tomatoes, but you can buy them whole, in strips, crushed, with or without skins on, as a concentrated paste or even already mixed into a sauce. Depending on which variation you choose to buy will affect the overall flavor and consistency of your sauce.  
In general, red sauces fall into two categories: cooked and uncooked. Your basic pizza marinara should always be uncooked. The reason for this is that canned tomatoes are already pressure cooked and once it goes onto the pizza it will be cooked in the oven another time. You don't want to triple cook your sauce. This rule applies to simple red sauces containing tomatoes, herbs and spices (fresh or dried). The other category of red sauces is if there are ingredients that need to be cooked down before hand, in order to come together and impart all of the flavors into the tomatoes. Vodka sauce is one that definitely needs to be cooked beforehand as are sauces containing meats like sausage or pancetta. Most sauces can be stored in an airtight container for about five days.  
It is also important to tailor your sauce to fit the style of pizza you are making. You don't want a super heavy sauce on a delicate Neapolitan pie just as you want something more substantial on a Sicilian crust. When you add your red sauce is also important.  
On a Detroit-style pizza, for example, the sauce should be ladled on top of the pie after it comes out of the oven. True Neapolitan pizza sauce can only consist of D.O.P San Marzano tomatoes and a pinch of sea salt. Roman-style pizza dictates that you put the sauce on before the first bake, whereas Sicilian you usually put the sauce on after the par-bake. These days, with a lot of new pizza makers blending styles and creating their own genre, sauce can be a very personalized thing. We do three different styles of pizza at my shop and due to space and labor shortages we only make one basic marinara sauce that we use on all three.  
There are so many ways to liven up your basic red sauce. If you like a little bit of spice, try adding chilies or even just pepper flakes to the sauce. If you're looking to add a slightly gamey, salty flavor you can either throw in a piece of prosciutto as the sauce is cooking down or sauté guanciale as the base. One of my favorite sauces on both pizza and pasta is an Amatriciana.  To convert this classic Italian pasta sauce to a pizza sauce I added a little heavy cream and finished with grated Pecorino.  
There are so many ways to make your sauce unique to your shop but whatever you do, it's great to have a good base sauce as a starting point and then experiment from there. Here are two basic recipes to get you started. Feel free to veer as far off course your imagination allows.  
Marinara with Anchovies
Get the Marinara with Anchovies recipes.
Vodka Sauce
Audrey Kelly  owns Audrey Jane's Pizza Garage in Boulder, Colorado.