Try two standout berry pizza recipes
Berries bring versatility to summer menus
Summer means berry season. As a child, enjoying a Strawberry Shortcake was the ultimate way to end a backyard family barbecue. Blackberries, blueberries and raspberries aren't just for smoothies, cobblers and pies, either. In fact, one of my favorite Pizza Today test kitchen creations was thrown together in spur-of-the-moment fashion using berries. (More on that later.) They're great on pizza  — and not just dessert pizza, mind you.
When we introduced Chris Decker's monthly recipe column, On Deck, he kicked things off with a recipe we named "Berry Belly." It featured blackberries, and it was simply divine. The moment I saw the recipe (and subsequently, the photo he submitted along with it), I knew we made the correct choice to succeed Tony Gemignani with the monthly recipe column we run on page 18 each issue. This wasn't a dessert pizza. Rather, it was a nuanced and balanced dinner pie where the sweetness of the berries played off the saltiness of pork belly and the heat of habanero. Chris nailed it.
There's absolutely nothing wrong with a blueberry streusel dessert pizza. It hits the spot when the end of a meal calls for something sweet. But let's leave that to the lunch buffet chains that cater to kids with games. We're here to elevate and celebrate berries, so we're gonna do it right!
Berry Pizza Recipes:
Here are a couple of my favorites to get you started on your journey. As always, my aim is for you to get into the kitchen, get your staff involved, and experiment until you hit on something that works for your customer base.
Get the Berry Belly Pizza Recipe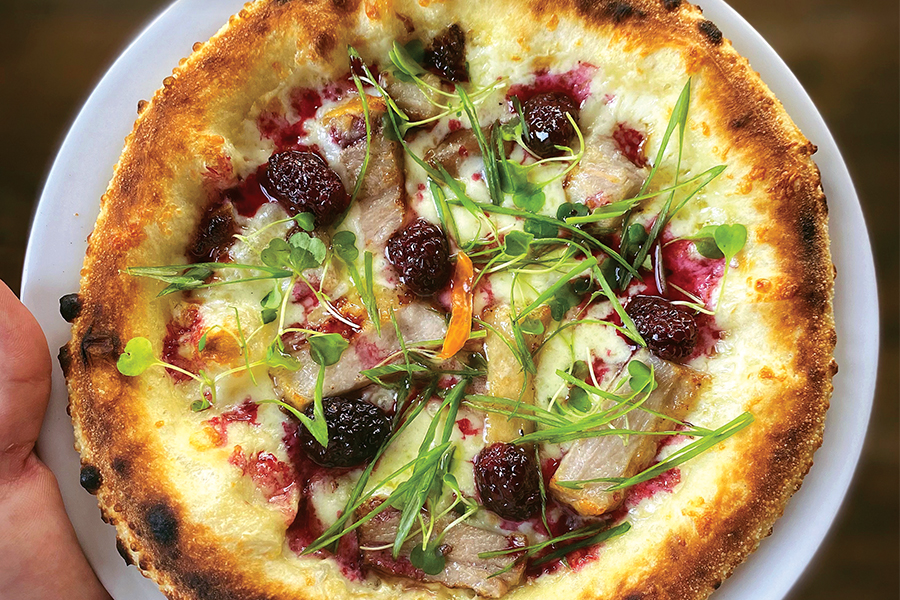 Now, let's elevate our dessert pizza with mascarpone and mint. The combination found in the recipe below is downright decadent. Dessert isn't always the easiest sell in pizzerias. That shouldn't be the case with this thing of beauty.
Get the Black & Blue Dessert Pizza Recipe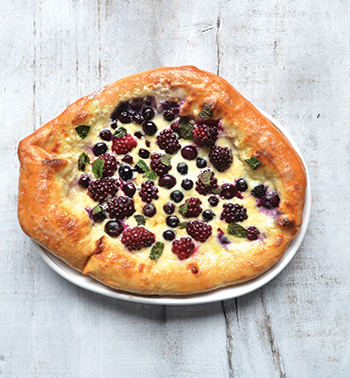 Jeremy White is Editor-in-Chief  at Pizza Today.