Fall Favorite: Eggplant Recipes
Eggplant has always been a favorite of mine. And it should be a favorite of yours, too! It's a low-cost ingredient that brings both panache and profits to your menu! Throw in that it's easy to work with, and the question begs: what are you waiting for?
To begin with, when selecting eggplant be sure to opt for ones that are heavy for their size. These provide better texture. You're also going to want to salt eggplant and let it sit an hour before using it. This will keep your dish from getting too
watery and prevent the eggplant from soaking up too much oil as well.
Perhaps the most classic use of the ingredient is in an eggplant Parmesan dish. This is one of my favorites and provides a great vegetarian option to your customers. Give this eggplant recipe a whirl.
Eggplant Parmesan
Get the Eggplant Parmesan recipe. 
Eggplant Rollatini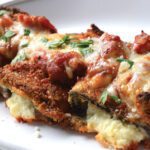 Eggplant rollatini is a delicious option as well. You're going to lightly fry here, and the results are divine when done correctly. Be sure to slice the eggplant thinly.
Get the Eggplant Rollatini recipe.