Grilled pizza a New England staple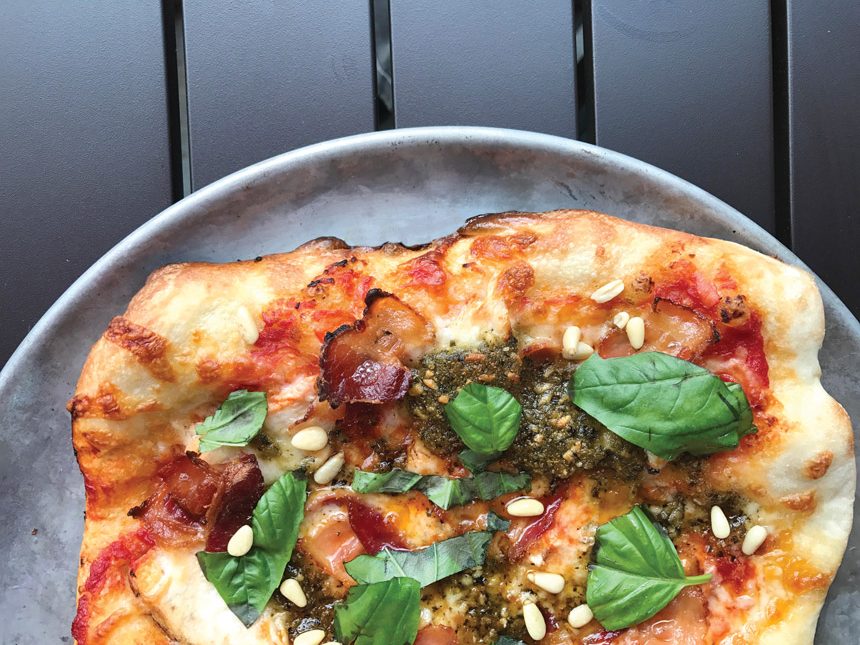 One of the best pizzas I've ever tasted was a grilled pizza made on a hot summer night many moons ago. I brought some of my pizza dough home to show my wife what a great professional I was. I flattened the dough, threw it on the grill and strode off for a beer. After 10 minutes, I returned, shocked to see a large cloud of smoke emanating from my grill. I opened the lid and saw my blob of high-gluten dough and cheese burning like a chunk of tar. This massive fail, (followed by numerous off-handed remarks from my wife) was a wake-up for me. Minutes later, I got serious so I oiled and thinly pressed two pizzas out. I watched them like a hawk then flipped the dough over and topped them just in time for the top heat to melt the cheese and chicken. The flavor of the char and smokiness of the pizza dough was incredible, and the light airy center of the pizza complimented the small amount of toppings perfectly. I was hooked on grilled pizza.
Grilling pizza at home is a fun aspect of summer but a larger challenge looms when you market, make and sell grilled pizzas. I've sold grilled pizzas at our local farmers market using a trick that a chef showed me at the 2006 World Pizza Championships. He oiled and grilled both sides of a dough producing the marks and that awesome char beforehand. Then after the dough cooled off, he spread cheese and toppings and cooked it in a wood fired oven using the dome method for only top heat. I now follow this method using my conveyor oven to produce the same delicious results. I still can't mimic the grilling pros in Rhode Island, so I make simple grilled pizzas like the Lebanese cheese pizza with vegetables (Jibneh wa khodra) made with small vegetable dices and local feta and grilled Middle Eastern bread (manoushe) brushed with the Middle Eastern za'atar, olive oil, salt and sesame.
Modern grilled pizza in the United States is purported to have its inception in Rhode Island, where a handful of intrepid pizza makers have turned it into an art form. But the concept of grilling bread goes much farther. Thanks to Christopher Columbus, we have accounts of a Caribbean tribe called the Tiano — who perfected the art of disgustingly delicious grilled pizza called zamia. After grating the stems of the toxic zamia plant, they formed the pulp into balls and left them in the hot sun for three days until they attracted worms and turned putrid and black. These nasty balls were then grilled over the fire. Columbus said if the balls were not perfectly fermented and topped with worms, "the eaters will die." This finesse at grilling the perfect zamia pizza is extreme, but even though you've been making pizza for years, you can still get tripped up at this grilling art if you don't watch yourself.
As with any piece of restaurant equipment, check with your local health and fire department on what and where you can grill. Many barbeque places have the smoker outside of their kitchen in a certified safe area. Always have a fire extinguisher within reach and never leave food on a grill unattended.
Indoor and outdoor charcoal grills:

These give the dough the most flavor, but the actual grates vary from thin wires to thick tubes. This will directly affect the charred grill marks on the dough. Forget making the perfect round grilled pizza if you want them thin, fast and charred.

Fireplace grills:

These are designed for camping or for fireplaces and are especially designed for wood burning. These are also called Tuscan grills and are great for catering with some aromatic wood like sassafras or oak. The pizzas taste incredible. Just remember, there are cheap knockoffs out there.

Cast iron skillet grills:

These are easy to regulate on a gas oven range, especially with top heat, but tend to be smaller in diameter than you could realistically sell a six- to eight-inch pizza for. There are larger ones out here, but most have a high side that super-heats the cornicione, sometimes making a visually undesirable crust.

Open-faced grills and panini grills:

There are a wide assortment of these out there that are perfect for making the grill marks you desire. Panini grills and the clamshell grills do make great marks. But as a pizza professional, you probably need larger ones in the 1500 btu range and NSF certified. Panini grills do not offer the top heat for that final cheese melt.
When it comes to dough, your proprietary pizza dough is probably the best, most expedient option for your operation if you are contemplating making grilled pizza. I've experimented with both my regular small, nine-ounce pizza dough at 65-percent hydration and my thin-crust weighing in at eight-ounces at 50- to 55-percent hydration. Several factors compete here including the following.
Thin to win:

If you are selling this right off the grill, nothing tastes better than a thin, cracker-like Rhode Island-style pizza. I've found that a well-oiled, elastic but less-hydrated thin-crust dough that doesn't "pop" into large, unmanageable bubbles is dynamic in taste and texture. This bubble problem can be elevated with docking, but I've had more consistent crunch with less leavening from yeast and less water in the mix. Bubbles burn faster than the rest of the pizza on the grill and then make the pies hard to sell because black bubbles turn into pizza holes.

Thick as a brick: If you are pre-grilling or selling larger grilled pizzas or flatbreads like za'atar manoushe, you can achieve a larger revenue stream from each pizza by making a thicker crust up to ½-inch (which will hold up to time, pizza box steam and an additional blast from above to melt the cheese).
It's in the oil:

Oiling the dough before the grill is a must. I used to oil the tines of the grill first, but this burns the brush or paper towel and is inherently dangerous. Since this time, I've experimented with different oils like avocado oil, sesame oil, walnut oil and the best by far — extra virgin olive oil. I use the Rhode Island method of stretching the dough on an upturned sheet pan with copious amounts of oil then transferring quickly to the grill.
The attributes of the deep char flavor of a grilled pizza are complemented by a wide array of flavors. Cheeses like Asiago, Manchego, aged cheddar, Parmigiano and bleus like Stilton, gorgonzola and Roquefort are a delight and pack more of a punch with crunch. Drier mozzarella cut small or thin is better than wet mozzarella. I've found, just like the masters of grilled pizza in Rhode Island, that getting the cheese down first is preferable to a nice melt, especially with minimal top heat and that bottom cooking fast. (There is a little secret for melting cheese on a grilled pie if you don't have enough top heat: a crème brulee torch.)
Small dice vegetables and thinly cut meats rock on grilled pies because of the short cook time. Shredded zucchini, corn, halved cherry tomatoes and sliced scallions add a wonderful flair.
Sauces are a fabulous part of any pizza. But for grilled pizza, the time it takes to spread a thick cream sauce or tomato sauce on the pie while on the grill may lead to the underside burning. Many grilled pizza masters splatter their delicious sauces on top of the cheese.
---
The Recipes
Chicken Bacon Pesto Grilled Pizza 
John Gutekanst  owns Avalanche Pizza in Athens, Ohio.