Take vegetable toppings to rockstar status
Over the years of being in the pizza business I've realized that there are three types of people: there are pizza people, people who think they are pizza people and others. You can tell right away what category someone falls in by what they comment on about the pizza first. In my experience, pizza people go straight for the crust.  It is the first thing they notice and what they are most interested in learning about. What kind of flour? How long is the fermentation? What is the hydration? The people who fall into the Other category, instead see the crust simply as a vehicle for the toppings. I hear it daily in my slice shop and read it in reviews all of the time.  It is my job, as the menu developer and pizzaiola, to make both camps happy. This means making the most cohesive pizza I can. Something that I enjoy immensely as I am not only a complete dough geek, I am also a cook. Since the other category makes up a pretty big percentage, let's talk about toppings, namely vegetable toppings. As for the people who think they are pizza people, well that is a topic for a whole other conversation.
Creating the perfect pizza is all about balance — not only with flavors, but textures as well. Vegetables are one of my favorite ingredients to achieve both. They can change drastically simply by how you cook, pair and use them. My menu has vegetables that are roasted, raw, blended and pickled. When I'm creating a new pizza, I look at the whole pie. Basically, how is it going to play out in your mouth? I want each bite to have elements of chewy, crunchy and creamy textures. As far as flavors, I am always looking for a balance. Cutting super fatty or earthy flavors with a hit of acid; or a big punch of garlic with a handful of saltiness.
I use vegetables in different ways on every pie depending on what I'm trying to achieve. For example, on some pizzas I cook the olives so that they become softer and blend in more with the other ingredients; and on others I put them on raw to deliver a bit more crunch on the finish. Onions are a vegetable that change drastically depending on how they are prepared.  Raw, they offer a big bite and spiciness that is great for cutting through meats and other heartier veggies. Caramelized, they break down and offer up a sweet creaminess.   
With only one electric oven at my pizzeria, we are forced to be a little more creative on how we cook things. This means a lot of roasted veggies, which I love because they carry some of the deepest flavors. One of our best sellers is our version of an eggplant Parmesan. We make it into pizza and sandwich form. Since we don't have the capacity to pan-fry or deep fry the eggplant, we thinly slice and roast it. It is layered with sauce and ricotta, then topped with fresh basil and shaved Parmesan. We also roast Brussels sprouts, cauliflower, sweet onions, and other seasonal veggies, such as butternut squash and asparagus. Being a small place, I always try to multi-utilize every ingredient.
In my opinion, one of the best ingredients, vegetarian or meat, are chilies. Yes, chilies. I was once asked in an interview why so many of my pies featured peppers. Well, because they're freakin' awesome! Yes, I might have a slight addiction to spiciness but there are so many different types of chilies ranging in levels of heat. Also, how you prepare and pair them changes the flavor and hotness. Our most popular pizza is probably the Spicy Pig. It has sausage, natural casing pepperoni, garlic, and most importantly roasted jalapeños. Do we roast them in house? You bet we do. Not only is it super simple to do, but the difference in flavor is a game changer. Others that we use in multiple forms are Calabrian chilies. We blend them with honey, make hot oil, crush to put straight on pies and mix in with our homemade sausage. Of course, there are also bell peppers, which can be put on the pizza raw, roasted to bring out the sweetness or pickled for added crunch and acidity.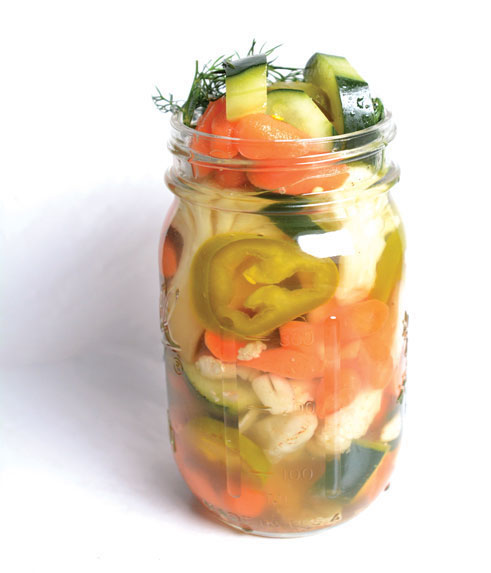 Let's talk about pickled veggies. To me, they are something that a lot of people overlook, yet happen to be one of my favorite ingredients. It can turn any dish that is a bit lackluster, into a flavor bomb. You could say I'm a bit of a pickle junkie. Making tacos? Top them with some pickled onions and cauliflower. Italian sandwich? Oh, there better be some giardinara on it. Need to jazz up that pepperoni pie? Did you add pickled jalapeños? You can also change the flavor to create exactly what you're trying to achieve simply by adding different ingredients to the brine. Use fresh herbs, spices and different allium (leeks, onions, scallion, garlic, etc). You can also adjust the vinegar ratio if you don't want it to be so acidic. What's the best way to balance all of the acid? A nice hit of fat. Which brings us to frying.
Deep frying is also an excellent way to transform veggies, perfect for a finishing touch. One of my favorites is fried leeks. Not only do they look and smell amazing, they add a whole new dimension to the pizza without being overwhelming. Lemons, which I know are not technically a vegetable, are beautiful when flash fried.   
There are so many fun ways to use vegetables as toppings besides accompanying meat on a supreme pizza. Here are a few different pies to play around with that encompass multiple textures and techniques. Feel free to substitute the veggies for ones you have on hand or have a hankering to try.
Roasted delicata squash and broccolini, mozzarella and finished with burrata, toasted pumpkin seeds and fresh basil.
Pepperoni, sauce, mozzarella, pickled cauliflower and jalapeños.
Raw spinach, mushrooms, caramelized onions, pesto and sweet piquanté peppers.
Pickling can be a little intimidating at first, but it is actually one of the simplest things to do. If you're going to use the pickles right away and refrigerate them, you don't even have to can them. Here is a recipe to use as a baseline (you can add different ingredients to vary the flavor profile).
Quick Pickling Recipe
Makes: 2 pint jars
Get the Vegetable Quick Pickling Recipe.
Audrey Kelly is the owner and pizzaiola at Audrey Jane's Pizza Garage in Boulder, CO.