Servers and food runners work together for more efficient front of house operations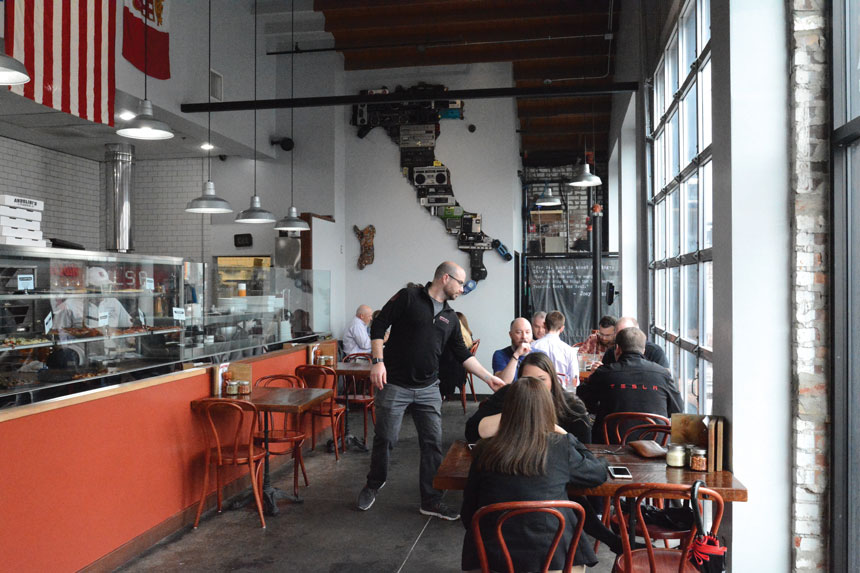 How many people does it take to serve a pizza? More than one, it turns out, because bringing food to customers' tables involves much more than carrying a tray from the kitchen. Consumers expect much from their restaurant experience, and that often means having enough staff to take care of many details related to service. Pizzeria owners say having servers and food runners make service more efficient, which can result in satisfied customers.
The difference between servers and runners is servers take the orders from customers, and runners deliver those orders to the tables. "The food runner is often the go-between for servers and kitchen staff helping the restaurant operations to run smoothly," says Antonio Matarazzo, co-owner of Stellina Pizzeria in Washington, D.C. "They are essential to helping servers do their best job."
Teamwork is crucial, and servers and runners must work together and make sure their skills complement each other's efforts. Servers use their vast menu knowledge and good customer service skills to engage with diners. Runners not only assist servers by bringing food to the table, but also clear tables quickly so the host can seat new customers, so they don't have to wait long for service.
For some, the server and runner model is used only as needed. At the three-location Lucky Pie Pizza, runners are on the schedule on busy nights. "We understand the loads on the server, and we want them to spend as much time tableside as possible, giving our guests utmost attention," says Dylan Schwab, general manager of the location in Niwot, Colorado. "The runners are offering cheese and chili flakes or watering the table."
While servers and runners each have their own responsibilities, they are also expected to perform other tasks. Runners mostly bring food to the table, so they typically do not take orders. However customers do sometimes ask for an item from runners. "If someone asks for a beverage they definitely go get that beverage, then tell that server about it afterwards," Schwab says. "There shouldn't be a designated person who can only get one thing."
The team model extends to helping servers and runners at other tables. "Food is everyone's responsibility, regardless of whose table it is," Schwab says. "They are all our tables, and they are all our guests, and they all have an experience when they're here. Even though they are not your table, they are going to come back and they will be your table."
The server and runner model is also useful for training. At The Masonry, with two locations in Seattle, runners are entry-level workers who gain knowledge and experience while assisting servers. "They get a crash course without having a role that is directly accountable to the guests," says Emeline Prince, the pizzeria's general manager. "You kind of get the lay of the land. You become familiar with dishes, the fire times, where everything is held in the restaurant and restaurant inventory."
Unlike servers, runners don't have to study the beer and wine list, and they don't discuss menu items or answer customers' questions about dietary restrictions. While servers try to spend more time with diners, runners are taking care of details that can make service go more smoothly. For example, after a runner drops off food at one table, they can pick up a check from another table ready to close out their meal. "That's a pinch point for guests," Prince says. "They might say, 'Great food but I had to wait to pay the check.'"
Having an extra worker on the floor enables servers to cover more tables. As a result, everyone benefits from the team model. "We pool gratuities," Prince says. "There is ton of accountability."
One of the locations of The Masonry has a heftier bar business, so the runners there are bar backs. They perform similar functions, as they assist the bartenders and help the operation run smoothly. "It's a role the establishment gets to define," Prince says. "It kind of exists in a lot of different forms."
In fast-casual settings, runners take the place of servers, which can streamline operations. Roppolo's Pizzeria, with three stores in Austin, Texas, uses the runners-only model. The business is counter service, so there aren't any servers to visit the table to take an order. "Ninety-five percent of what we sell is pizza," says owner Mark Roppolo, who opened the business 30 years ago. "And 80 percent is pizza by the slice."
That's a menu that needs little explaining, and the service is not labor intensive. The eatery uses the typical counter service model. Customers order a slice from the display case, or order a whole pie, and pay right away. They can sit at a table and wait approximately five minutes for a slice, or 12 to 15 minutes for a pie. A runner brings the food to the table. "You don't have all that extra transaction time," Roppolo says. "They order pizza, they order a drink, you collect the money. The transaction is clean and crisp."
Not only does the eatery get the money upfront, but the process is faster and easier than table service. "You're not going back and forth," Roppolo says. "You're not spending more time waiting for people to settle the check, thinking about how much to tip or how to split the check."
He adds that customers leave substantial tips. Since the restaurant does not have servers, and therefore does not have to adhere to tip credits and other rules, everyone can share in the tips. "Everyone gets a piece of that," he says. "It's advantageous to everybody, a win-win for customers and employees."
The only downside to having runners and no servers, Roppolo says, is possible missed opportunities to upsell. "In the big scheme of things, it's okay that we didn't sell an extra glass of wine."
Nora Caley is a freelance writer who covers small business, finance and lifestyle topics.