Patio seating offers some unique perks and challenges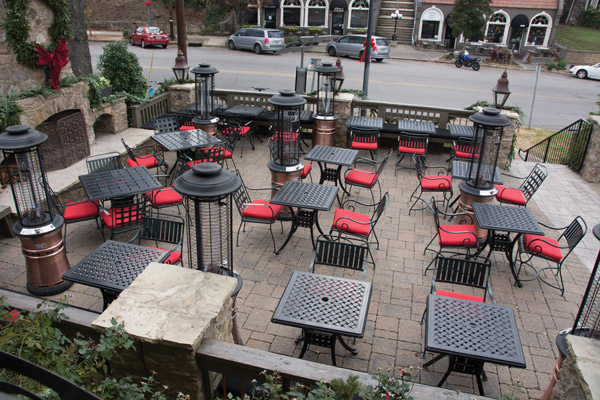 Al fresco dining is the centerpiece of the CiboDivino Marketplace in Dallas, and the frenetic pace of Friday and Saturday nights is nothing short of "crazy," says owner Daniele Puleo.
But it's also magical, as the outdoor dining system transforms a pocket of Texas into a slice of Italy.
Puleo is a Sicilian immigrant who launched his pizzeria and Italian market after a lengthy restaurant career serving the film industry's elite in Hollywood and Beverly Hills. When he opened his current place in Dallas, he designed it to bring Italian culture to life (The name means "Divine Foods" in Italian).
His patio introduces European familial warmth to strangers seated around custom-made wood tables. He also chose the property because of an adjacent grassy area, where families can spread blankets for picnics.
Service is counter-style, but runners deliver meals to hungry customers.
"The beauty is that people adjust to the dining style," Puleo says. "We have big communal tables. They sit together and create their own space and run the party however they want. We have two dedicated bussers that clean up the tables, but the people are in charge."
But be warned –– stellar patio service and an enchanting atmosphere do not automatically happen just because you put a few tables outside.
Here are three essentials to quality patio service, courtesy of Puleo; Sally Sciaroni, manager of Onesto Pizza & Trattoria in St. Louis and Mike Friedman, co-owner of Pizza Delicious in New Orleans:
The serving system
When it comes to patio seating, your customers' happiness depends on your serving logistics. Here are some tips from Sciaroni of Onesto in St. Louis:
Back-up help is crucial. For busier times of day, Onesto hires food runners to speed delivery from the kitchen to outside diners. And bussers are on hand for cleanup, even though servers also pre-bus their tables.
Manage beverages with a patio server station. Onesto's "station" includes a bus tub, a cooler of water and ice and "things they'll need for every table," Sciaroni says. "At our outside station, we have tea and water, but right inside is our bar, where we have two soda fountains and the rest of the beverages."
Keep it simple. That includes everything from drinking glasses, to the cutlery, to the servers' attire. To avoid breaking glasses on patio concrete, Onesto's uses plastic cups. And a casual employee dress code –– shorts with Onesto's T-shirts –– keeps servers cool on steamy summer days. (Sciaroni notes that she never has to twist servers' arms to volunteer for patio duty. Usually they request it.)
The seating demand
Be prepared for people to prefer patio seating over your interior dining room. That translates into longer waiting times for customers to dine al fresco, unless you carefully plan ahead. For example, Onesto doubled its outdoor seating from 30 to 60 a few years ago. The indoor dining room has 60 seats, plus a private dining room that seats 20.
However, even at that, wait times for patio dining can be an hour or longer, Sciaroni says. In those instances, Onesto gives customers a choice between an inside table or the wait.
Capitalize on "green" areas. Everyone enjoys sitting on the grass on a pleasant day to have a picnic lunch, Puleo says. A focal point of his place is the outlying grassy area, for customers to spread blankets and enjoy meals with a bottle of wine.
"The patio is near the front entrance, and there's a nice green area, a small park, that combines with the patio basically. A lot of activities for families go on there. You can see the kids playing. It works great," Puleo says. "This is the way I envisioned it. This was the only building that I would have considered for this very reason."
The ambiance
The mood you create on your patio is just as important as the one you set indoors, says Friedman of Pizza Delicious. He and his business partner, Greg Augarten, decided the cost of ambience was worth customer loyalty. They spent up to $30,000 on their patio, and more upgrades are on the way. They can seat 30 outside.
"It was a significant investment, but we knew it was something we needed. We just had inside seating before and were bursting at the seams," Friedman says.
Friedman and Augarten have a good friend who designed their interior booths. For the patio, he built six customized wood tables. Benches, with the same design as the wood tables, were built into a concrete wall barrier. The effect is a long, cohesive dining space. Small light globes, strung overhead, glitter across the tabletops.
"We have it designed to be attractive at night. It's intimate and cozy even though it's outside. That's fun. You're in your own little world out there, and also it's good space-wise," Friedman says.
"People can stand out there and be less in the way. Birthday parties come to the restaurant, and we don't have a gigantic space indoors, but people find their own seats and spread out a bit more. They grab a beer and a slice and are not standing in the middle of an indoor restaurant. They can lounge about, be less formal, and we can pack more people in."
---
Smoke on the Wind
Do you have a plan for smokers on a crowded patio?
Every community is different. For example, smokers cannot come within 100 feet from the front door of a restaurant in St. Louis, says Sally Sciaroni, manager of Onesto Pizza & Trattoria.
"Since our patio surrounds our front door, when we see someone smoking, we politely ask them to put their cigarette out or to step off of the patio," she says.
Mike Friedman, co-owner of Pizza Delicious in New Orleans, notes: "There's not much we can do about this since it's outside. On occasion, a customer has mentioned to staff that they are bothered by cigarette smoke, and we've nicely asked the smoking customer if they can walk out of the immediate seating area to finish his/her cigarette, which has worked out well."
Heidi Lynn Russell specializes in writing about the issues that affect small business owners. She is a regular contributor to Pizza Today and lives in Lexington, Kentucky.