Get in Line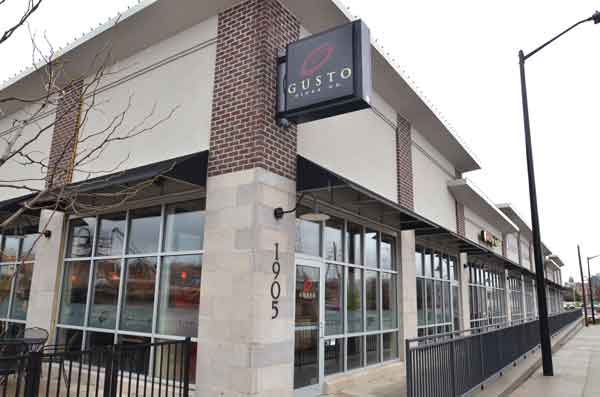 All strip malls are not created equal.
Your business may be one of the "lucky" ones, if you're adjacent to a strong anchor store. You can easily lure the anchor's customers to your door, as aromas of baking pizza waft into the parking lot.
On the other hand, perhaps you're fending for yourself in an off-the-beaten-path street, with meager signage offerings from your landlord. Even worse, maybe you can't yet afford a prime location in your strip mall, so your pizzeria is tucked into an out-of-the-way nook, with low visibility to passing cars. How do you attract diners?
Those who have persevered (and succeeded) over the long haul in a strip-mall location say they've faced these hurdles and more. Here are some top strip-mall location challenges and ways to overcome them:
Challenge No. 1: You're in a strip mall that lacks a strong anchor store.
Solution: Become "the destination store" rather than the restaurant that benefits from the destination store.
The Original Brooklyn Pizza in Lexington, Kentucky, is tucked in an old strip mall, with virtually no visibility from the main road. And the strip mall itself has no strong draw or anchor like a supermarket. "Ours is not a great location," says owner Brad Schooler. "Half of it is empty. It's a dying center, and other tenants talk about leaving, because there is no box store."
But, surprise! Schooler's business was up 30 percent over last year. His place is a "destination" because of his strong local reputation for replicating authentic Brooklyn pizza. (In the Kentucky bluegrass, that's a rarity.)
"My customers come just for me. This isn't a drive-by place," Schooler says.
His restaurant is also next door to a "tea room," also a popular local destination for people craving a taste of the United Kingdom. The two places feed off of each other's customers. Tout the things that make you special and you'll elevate yourself to the "destination spot," too.
Challenge No. 2: Your landlord is stingy with sign space at the strip mall entrance or has strict rules about restaurant signage.
Solution: Use your logo everywhere else — consistently, regularly.
Alfredo D'Alessandris grew up in the pizza business and has owned two restaurants in strip malls in different states — the first in Wallingford, Connecticut, the second (and current) one in St. Cloud, Florida.
In Connecticut, D'Alessandris's strip mall neighbors were small businesses like laundromats, a print shop and a recycling center. In Florida, his Bella Roma Pizzeria Restaurant reaps foot traffic from a neighboring anchor store, a large chain grocery store. But signage visibility has plagued him in both places.
Sometimes it just comes down to an easy solution: asking the landlord for a break.
"In Connecticut, before we were in there, everyone had blue with white lettering. We approached the landlord and said, 'Can we use the Italian colors? We want to stand out.' So we did change our sign on the building with a logo and red, white and green," he says.
Other times, it's not so easy.
Although Bella Roma has sign space at one entrance of the strip mall, a second entrance does not list the business, and a third entryway has no sign at all. So D'Alessandris liberally circulates his logo — a Roman coliseum. It's all over town (topping up to 10 delivery cars on a busy Friday night), on T-shirts and also on social media.
"We also have floor-to-ceiling windows. In one of them, we put our logo, and it's large and used with our font. It's like vinyl lettering on the glass," D'Alessandris says.
Challenge No. 3: You're sacrificing ambience (and customers) due to "vanilla," cookie-cutter, strip mall architecture.
Solution: Shift your focus from physical surroundings to how you make people feel.
Ciro D'Agostino immigrated to the United States in 1976 from Italy and has owned Ciro's NY Pizza since 1992 in a strip mall in Centreville, Virginia. The physical surroundings are not as important as the energy you convey to your customers, he says. For his part, D'Agostino places a heavy emphasis on the Italian cultural importance of family.
"I would say that as an Italian immigrant, and someone who has been in the restaurant business from a young age, the business flourishes because my entire family is dedicated and involved in making it grow," he says.
Customers pick up on the "at-home feeling," especially because D'Agostino's wife and three daughters are involved in day-to-day operations. Customers craving familial warmth in addition to pizza bring in their families, friends, neighbors and out-of-town visitors. The strip mall location itself becomes an afterthought.
"We work very diligently to ensure not only the quality of our food, but also to create a warm and friendly environment where our customers feel like they are at home. I think all of these factors combined are what continue to draw in people to the pizzeria," he says.
Heidi Lynn Russell specializes in writing about the issues that affect small business owners. She is a regular contributor to Pizza Today and lives in Lexington, Kentucky.