When John Farrell went to visit his daughter, Jacque, at college, they were treated to dinner cooked by the father of Jacque's friend. He made pizza for the group, and the pizzas that they enjoyed that night changed their perception of what pizza could be forever. John recalls that "not one of them had a marinara base." When John, Margaret and Jacque Farrell opened the first Farrelli's in 1995, they asked that gentleman to help craft recipes for the initial menu. One of those recipes was the Jack & John Pizza, named after Jack Rabourn, the father responsible for those early recipes. It's a pizza still served at Farrelli's today.
As a result of that fateful meal, creativity was interwoven into the very fibers that make up what Farrelli's Pizza is today. Over the years, many of our top-selling recipes have come from our young pizza artisans. The James' Favorite pizza is among our top selling pizzas and has been since our longest standing employee, James Mickelson, created it nearly 18 years ago at just 16 years of age. The Phil's Creation Salad shares a nearly identical story and that list goes on and on. We have fostered that level of creativity in our company by granting our artisans the autonomy necessary for it to thrive. The trick then becomes finding a place to highlight their creativity, capable of enticing our guests into trying something new.
We have found the solution in our Specials Menus. Over the years the format of our Specials Menus has evolved. In the past, each store had its own specials menu. Today, we produce a company-wide seasonal menu. The menu features items submitted by artisans at each of our locations. It also features items inspired by the season and current events. The presentation of the menu has evolved as well. In the early days, we would simply print out the menus ourselves and put them in a menu sleeve that was dropped at each table alongside our regular menu. Today, we have developed a table-top flip menu that highlights these specials as well as other items that we want to merchandise to our guests. These new menus are printed on poly paper and are easy to navigate, allowing the guest to flip directly to the page they are seeking (such as appetizers, happy hour specials and bottled beers, just to name a few). We've found these new menus to be more engaging for our guests than our standard menus, and they are certainly more attractive.
If your pizza concept is anything like ours, you've found yourself contemplating ways to increase your average guest check and have at least toyed with the idea of adding new food types to accomplish it.  For us, we've found ways to introduce new menu items that fit our model of "artisan pizza cooked on stone in front of an open flame." The fact of the matter is that some people just aren't in the mood for pizza all the time. For those people we've introduced our wood-fired sandwiches, oven sautéed pastas and even our Northwest Brat in a Hoodie (think pig in a blanket, only bigger and better).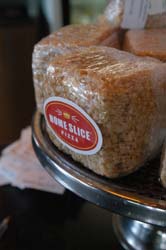 We've always started by introducing those new items on our seasonal specials menus. This is a great way to test out the success of the recipes and the customer's excitement level for them. If the customers respond well, we make room on our main menu for the new items. Sometimes this means existing items need to be removed to make room for the new. We engineer our menus two to four times a year, going through the diligent process to track sales, food cost and popularity of all of our menu items and groups. The results yield the most profitable and popular items (Stars), items that are profitable but not popular (Puzzles), items that are popular but not profitable (Work Horses) and lastly those that are neither profitable nor popular among our guests (Dogs). The idea is to promote the Stars in the most visible part of your menus, while at the same time removing the dogs from the menu altogether. With the puzzles, the objective is either to move the item into a more visible place on your menu or perhaps to retool the recipe to make it more enticing. As for the work horses, they might not yield a high margin, but they keep guests coming back and put dollars in the bank. Keep in mind, however, that when you engineer your menus there will always be dogs. If you remove the dogs and then engineer your menu again, a new set of dogs will take the place of the previous list. It's just the way it works.
Moving forward we are looking toward technology to deliver enticing queues to our guests, suggesting new products and special offerings. An example of this would be rotating image slides played on large flat screen televisions in the adult dining areas of our restaurants, strategically positioned over or near other TVs programmed to view prime sports games. This four-walls marketing technique leverages the captive audience that we have in our stores, promoting additional sales and an enhanced experience. The idea is simple in that if they are already staring at our TVs, then we should give them something to look at on our behalf. Additionally, new creations such as our Beast Mode Calzone (a 12-inch meat calzone served with a shot glass full of Skittles and named in reference to Marshawn Lynch, star running back for our Seattle Seahawks) are promoted through the likes of Instagram, Facebook and Twitter.
We leverage the power of imagery and social media to help spread the word about our new innovations, creating excitement and mouthwatering temptation for these new items. A recent image post on our Facebook page for a Special Bloody Mary adorned with a slice of pizza received 40 likes, 21 shares (including by Pizza Today's Facebook page), eight comments and was seen by nearly 3,000 people in their news feeds organically. In other words, we were able to engage that many people in our audience on this new item for FREE, and the result has been an increased demand for Bloody Marys in our restaurants, especially the pizza slice Mary.
One thing is for certain, at Farrelli's we will continue to roll out new and exciting creations inspired by our people and our communities. Creativity, however, is not enough. The trick has and always will be how to present those new items to our guests and we will continue to explore innovative ways to do so. u
Clayton Krueger is the director of marketing and communications for seven-unit Farrelli's Wood Fire Pizza in Tacoma, Wash. He is a regular Pizza Expo speaker and an authority on pizzeria marketing plans.