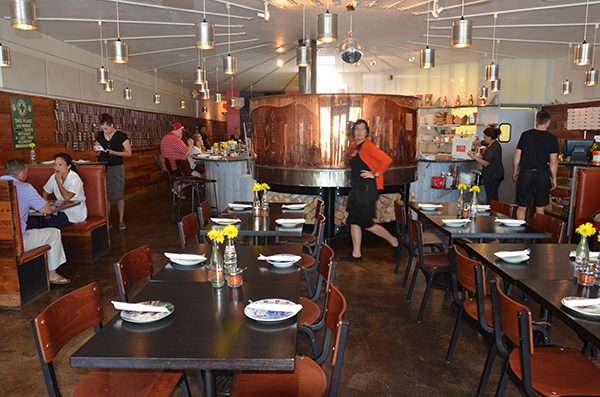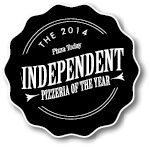 It all comes out of the oven that serves as the pizzeria's burning beacon.  Kim admits that, initially, she was hesitant to let the piece of equipment steal the spotlight.
"It was really our architect's idea," she says. "He really thinks outside the box. He had never really designed a restaurant before. I would consider him more of an artist, and he takes a really humanistic approach to his design. He wanted to use all the light and open space to show the humanity of what a restaurant is and to expose what it is that we do. And so it was his idea to make it the focal point. He drew out the design and said 'We're going to put the oven right here.'"
That was perhaps a little too unconventional for Kim.
"At first I said, 'Oh no. That's ridiculous. It's insane. How can we do that?' But my husband was like, 'That's brilliant. We're gonna do that,'" says Kim. "It took a little coaxing, but it was the best decision we could have ever made. And that's when everything was designed around the oven, from the kitchen to the dining space to the bar. Everything was centered around it."
While the oven gets the glory, there's another design feature in the restaurant that gets people talking — the light fixtures.
"We made the lights out of recycled tomato cans and that is probably our second-most talked about architectural piece," Kim says. "Out of necessity, sometimes, comes great design. We had to be as creative as possible. Some people have millions of dollars to spend. We had to be creative and create something that was unique to us."
That meant building a unique culture where everyone felt like family.
"When I was envisioning my dream restaurant it was all about evoking community. I wanted a place where people came not only to dine for sustenance, but to create memories. For me it's not so much about making money. Obviously I wanted to make enough to pay the bills and pay the loans, but for me it was more about feeling like it was an extension of my home. If I was going to be here every day, I wanted regular customers that felt like friends."
And that's why Kim told the architect she wanted to make room for the photo booth.
"That has become the third thing people really talk about here. Come eat pizza, have ice cream, get your picture taken in the photo booth and hang your photo on the walls. It's an integral part of what we do."
When the restaurant opened, kim was worried she had too much space on her hands. Then Pizzeria Lola became the beneficiary of positive review after positive review in national publications. Now she has long waits on the weekends, sometimes up to two hours.
"I wish we had double the space," she says. "Every day we get new customers. I kept thinking, 'Some day it's got to end, right?' But it hasn't. People keep coming. And not just from the neighborhood or the city. They come from across the river and from hours away to eat here."
The positive press only brings in the customer once, however. It's up to Kim and her staff to create an experience and product that ensures their return. Therein lies the trick, and Pizzeria Lola has it all figured out.
"People often ask about the keys to our success," says Kim. "I think it's always about believing that your next customer could possibly be your customer for life.
"Our mission at Pizzeria Lola is really simple. It's a one-sentence mission statement: To bring joy through great pizza and inspired hospitality. To me, that kind of says it all."
It's not only about the food at Lola. The service, says Kim, is a crucial component to helping customers experience joy within the pizzeria's four walls.
"All of our staff members understand very well what our philosophy is," she says. "We treat our guests like extended family and we get probably just as many compliments about our service as we do about our food."
Getting employees to buy in is the plague of many pizzeria operators. Not so at Lola.
"I think we change the perspective for them," says Kim. "We focus on the philosophy that the restaurant industry is an upward profession and a noble profession. It's not just a job. It's not just here to supplement other jobs. This is something that is honorable and to be respected. You can make a profession out of this.
"We made a promise to ourselves that once we started making a profit we would start giving back to the restaurant and the staff. Because to us the staff is key to our success. They are every bit as responsible for the success of Pizzeria Lola as I am. As soon as we started making profit we offered health insurance to all of our full-time employees, as well as a generous 401(k) plan with a company match. We offer paid time off and bonuses and all these great things to let them know that this is a real profession that you can have. For us, it's all about the people. We want these people to be with us for a lifetime. We don't want to be training in new staff constantly."