Hello Pizza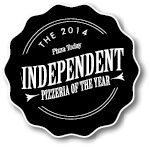 Hello Pizza is the sister restaurant to Pizzeria Lola. Owner Ann Kim recognized that the unique vibe at Lola would make it difficult to grow, but she also knew it would not be easy to keep many of her key employees around without advancement opportunities.
Since she was a fan of New York-style pizza and Minneapolis seemed to be lacking a proper slice joint, Hello Pizza was born.
"We're looking into expansion opportunities for Hello Pizza right now," she says. "That only happens when I feel like I've got the leadership in place and people who are committed to us and share our collaborative philosophy."
Hello Pizza offers delivery and quick-order items in a counter-service setting. But don't let that fool you. Nearly everything, like at Pizzeria Lola, is made
in-house.
"Hello Pizza is a very different model," says Kim. "I harkened back to my original idea, which was East Coast-style pizza cooked on a deck oven. It's more about quick service. It's about being able to serve food that is consistent, hot, fast and professional. And that's something that we can replicate."
Jeremy White is editor-in-chief of Pizza Today.
<< Previous   1   2   3   4