Local pizza concepts become fast-casual players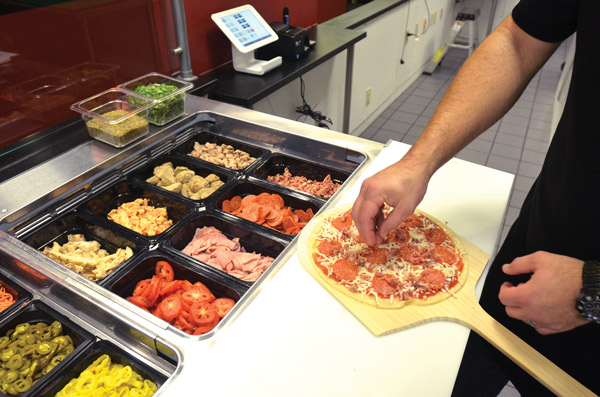 What do the leading brands in the fast-casual pizza segment have in common? They offer customizable, individually-sized pizza fast and at an affordable price. They have open, customer-facing kitchens, use an assembly-line pizza-making approach, use fast-bake ovens and have multiple customer touch points on the service line.
Much of the focus and attention has been thrust on the national fast-casual chains that have driven the segment into the mainstream; but there's another side — local fast-casual pizza concepts that are thriving in their markets.
For independent and non-franchised pizzerias, what's happening on the national fast-casual pizza scene isn't as important as what's going on in their own neighborhoods and towns.
Three operators who have jumped into the fast-casual pool offer insights into the segment. Ruth Gresser, chef owner of Veloce in Washington, D.C., entered the fast-casual market over a year ago and has found success in the crowded fast-casual pizza field of the nation's capital. Eric Renegar and his partners at WRW were not new to fast casual but they were new to the pizza space when WRW opened suburban Oklahoma City-based Revolve Pizza Kitchen in 2014. Rick Kueber opened Topp't Pizza & Chopped Salads in Elizabethtown, a city of around 30,000 residents in central Kentucky, less than a year ago.
Each operator was drawn to the segment for various reasons. Kueber and Renegar saw opportunities to be early adopters in their local markets. For Gresser, a light-bulb moment when the first Chipotle opened in D.C. took years to become realized while she focused on her full-service, three-unit Pizzeria Paradiso.
Kueber says he was drawn to "the opportunity to be the first to the market in many trade areas." Unlike major metropolitan cities, the fast casual pizza concept is still a fairly new phenomenon in secondary and small markets, for now.
With only one other fast-casual pizza concept in Oklahoma City, Renegar watched it very closely. "Pizza is something that we hadn't done so we talked about how we would do pizza and what we would do to set ourselves apart," he says, "and going back to what we know with fast casual that it was a fit for us."
Gresser admits: "I frankly was struck by the inefficiency of doing the Chipotle model for pizza, because it takes quite a while for a customer to progress down the service line.
"The transition from old school American pizzas that cook in 10 to 15 minutes to having a pizza at Paradiso — the pizza cooks in about five minutes, so just sort of seeing that increase in production, in speed of cooking, made the light bulb go off. I thought, 'I bet we can decrease the cooking time and that it would work to be able to serve people more quickly.' It could fulfill the speed market — I'm going to call it — that has developed."
Gresser built the Veloce model to deviate from the service line approach and have the customer experience begin with the cashier. "I decided to move away from the customer walking down the production line so we actually have a cashier that takes the order and then it's sent to the kitchen. So the difference, to me, is that at the end of most fast-casual models, at the end of the production line your food is ready. In the pizza model you go through the production line and then the pizza needs to be cooked." The adjustment, she says, saves time. The average time from order to service is five minutes at Veloce.
Spinning off of Pizzeria Paradiso provides a point of separation for Veloce from its fast-casual competition, incorporating the same chef-driven and high-quality Neapolitan-style pizza and high level of customer service as
Veloce's parent pizzeria. The fast casual's marketing and branding reflect its ties to Pizzeria Paradiso. In fact, it's name, Veloce by Pizzeria Paradiso, carries nearly 25 years of brand familiarity in the D.C. market.
The fast-casual environment, Gresser says, is nothing like her three full-service pizzerias. "Once we started down the process, it just surprised me about how different a business we were opening. The only thing really that was the same was that it was pizza. Every other piece of what we had to put into place was completely brand new to us.
"I'm a person that likes puzzles and challenges so it was kind of fun thinking through each step and making it the best it can be and we are incredibly happy with the way the operation performs. It's just really worked exactly the way that we wanted it to."
Still in its infancy, Topp't is savvy about promoting itself, BTO (build-to-order) pizza and its highlights on social media. Going beyond just BTO pizza by offering salads, unique beverages and desserts differentiate the brand. Topp't is also able to adjust to its demographics quickly.
"Independents can be much more nimble and can stay on the forefront of advances in the category," Kueber says. "They typically can also provide greater customer service."
Renegar agrees. Being an indie in the fast-casual pizza space has its advantages. A local concept, he continues, has more freedom to innovate. "(It's about) staying on top of what people are wanting and trying new things and being able to keep up with the wants and needs of our customers."
Sourcing local ingredients, making as much as possible from scratch and stretching dough in front of the customer has helped elevate Revolve, Renegar says.
Its unique dueling ovens with rotating stones also provide an impacting visual for Revolve guests.
Finding other revenue streams is one way to stand out from the fast-casual chains. Some have turned to third-party delivery to add revenue. Revolve's catering program that they've offered since opening has consistently picked up steam, Renegar says.
Highlighting product sourcing and processes of creating the food in the restaurant also provides points of separation. "Larger restaurant groups have a lot better buying power. When you are getting into the pizza market and pricing is really crucial, that is huge. We don't have that. You have to find other ways to make your mark."
Denise Greer is associate editor of Pizza Today.