Let's have the biggest Pizza Expo ever! We're expecting more than 9,000 pizzeria owners and operators to converge on the West Hall of the Las Vegas Convention Center on March 28-30. With so much packed into the week, we're here to get you ready. Let's break it down by Pizza Expo happenings.
Exhibit Hall
If this is your first Pizza Expo, the Exhibit Hall is the place to shop, learn about products and even taste or test drive products. The show floor is larger than eight football fields with more than 400 pizza-specific manufacturers and suppliers. The exhibit hall is open Tuesday and Wednesday from 10 a.m. to 4:30 p.m. and Thursday from 10 a.m. to 3 p.m.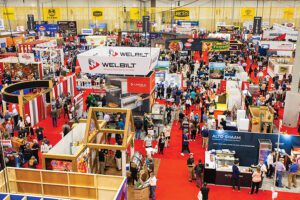 "Walking the show floor will lead you through some of the restaurant industry's hottest trends and leading innovations," Group Show Director Bill Oakley says. "This is the marketplace where the next big industry ideas will be born."
Insider's Tip: The show floor is huge. Don't wait until you hit the show floor to figure out what companies you are most interested in. Review the Exhibitor Floor Plan to create your strategy.
Competitions
The World Pizza Games, International Pizza Challenge and the International Italian Sandwich Competition are back to crown world champions.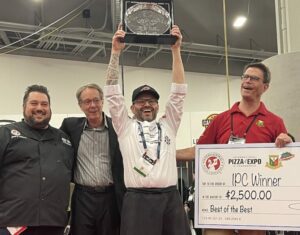 Head over to the World Pizza Games stage on the show floor Tuesday and Wednesday to watch feats of pizza athleticism as pizza makers show off their skills in Freestyle Acrobatic Dough Tossing, Fastest Dough, Largest Dough Stretch, Fastest Pizza Box Folding, Pizza Triathlon and the new Tandem Team Competition. Don't miss the Freestyle Acrobatic Finals at the Block Party on Wednesday evening.
The next Pizza Maker of the Year will be crowned at the International Pizza Challenge Area on the show floor. Pizza makers will compete in four divisions: Traditional, Non-Traditional, Pan and Neapolitan/STG. The winners of each division will face off against each other in a mystery-ingredient bake-off to determine who will be named the 2023 Pizza Maker of the Year.
New this year is the California Milk Advisory Board (CMAB) California-Style Pizza Making Competition featuring competitors from Mexico and Southeast Asia.
Insider's Tip: The competition area isn't just a spectator sport. Competitors make a pizza for the crowd. Watch for new pies to become available after judging.
Seminars and Demonstrations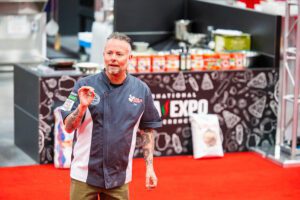 First, there is still space available in some of the School of Pizzeria Management workshops. These are extensive, fee-based courses taking place Sunday and Monday. Pressing topics include Restaurant Business Essentials, Hiring and Retaining Staff, The Million Dollar Pizzeria, Operating on a Shoestring Budget and more.
"These courses are just so in depth," Content Director Jeremy White says. "It's difficult to convey to breadth of knowledge acquired in these classes to someone who has never been to one. We have truly successful, expert pizza and restaurant people who drill down to the core of issues and lay out, in great detail, how attendees can follow proven steps and guidelines to achieve business success. These courses are absolutely phenomenal."
Beginning Monday at 12:30 p.m. through Wednesday at 5 p.m., we have a packed schedule of seminars and demonstrations led by industry thought leaders. "The seminar lineup has a diverse group of pizza entrepreneurs who are on the front lines daily fighting the good fight," White says. "They are right there in the trenches operating their pizzerias just like our attendees are. Our speakers have all figured out some 'secret sauce' in their own right and have risen to levels of success each and every one of our attendees aspire to reaching. The information presented in our educational lineup is so valuable to the attendees. From marketing to food demos and everything in between, we've got you covered. Sales, operating with limited resources, the labor issues pizzeria owners are still fighting, diversification, selling your pizzeria for top dollar, using video in today's environment … there are just so many that come to mind immediately. Our seminar program is robust. There's something for everyone."
Insider's Tip: Divide and conquer. Assign team members you bring with you different educational sessions to attend and report back on the seminar.
Special Events
Let us give you the skinny on a few of the key special events happening at the show.
• Keynotes. Don't sleep in on Tuesday and Wednesday. The keynote speakers are worth getting up early and getting the keynotes at 8:15 a.m. "Our keynotes are absolutely incredible this year," White says. "First, you've got Tony Gemignani opening things up. Tony needs no introduction. He's the Michael Jordan of the pizza industry. He's going to bring enthusiasm, great storytelling and just so much knowledge and inspiration to the show. If I had a dime for every pizzeria owner Tony has helped or influenced over the years I'd be flying to Pizza Expo on my own private Jet.
"Then there's Benson Tsai of Stellar Pizza. He's ushering in an entirely new, different and futuristic way of doing business, and it's going to be very interesting for Pizza Expo attendees to get a glimpse of what he's been up to. Both of these keynotes are truly can't-miss events."
• The Block Party. This is the industry's place to be on Wednesday evening. And this year, it will take place on the show floor. There's food, drinks, music, games, contests and the World Pizza Games Dough Acrobatic Finals.
Insider's Tip: The Block Party will be packed. Find your spot to watch the Dough Acrobatic Finals before the Games start.
Bonus
"Attendees will have the opportunity to attend two food-related trade shows in the same exhibit hall, as well as have a special discounted rate to attend the Bar & Restaurant Show," Oakley says. "Your badge will allow you entry into International Pizza Expo, SIAL America and International Artisan Bakery Expo." Now in its second year, SIAL America is one of the most comprehensive B2B food and beverage events in the U.S.
Two More Ways to Get You Ready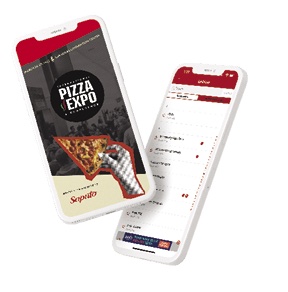 Pizza Expo will have something for everyone. As we countdown to Pizza Expo 2023, do these two things to get you ready for the show:
• Download the Pizza Expo App that will be available later this month. Go to PizzaExpo.com to get the direct link to this year's app. It's the best way to plan your expo experience.
• Watch The Update Show. Denise and Josh will be back to share more show details each week leading up to Pizza Expo 2023. You can catch the episodes at PizzaToday.com/videos or on social @PizzaToday.
See you in Las Vegas!