'Tis the season to be frugal? Consumers are finding their disposable cash at an all time low. The reality of a recession has hit home. Consumers now have to be more discreet than ever or change their ways — and change does not come easy. Dining out is still a large part of the American lifestyle, but its trends often mirror the economy.
Many operators in the pizza industry are experiencing drops in sales and profits. How can an operator adapt to the changing times and keep his customer base alive and well? Here are a few suggestions adopted from trends I've seen throughout the restaurant industry:
? Rebates – People love them. Like an operator, a consumer looks at the bottom line. How can you offer rebates? Maybe you already do and all you need to do is adopt some consumer friendly language, such as, 'Buy 5 XL pizzas and receive a $5 rebate check good on your next pizza purchase'. A rebate can be as simple as a gift certificate. Obtaining a rebate is a consumer motivation. This tactic can increase the frequency of a consumer's purchases. We tend to call such buying incentives "reward programs", but in trying times consumers' loyalty can wane. Renaming your program will attract a consumer with language they are becoming increasingly familiar with. Using gift certificates as your rebate will also heighten awareness of this 'product' on your menu. Statistics show that an average of 16 percent of gift certificates are never redeemed — pure profit for you. Those that redeem their gift certificates for full value can usually be upsold another 15 percent.
? Value Menus – Fast food giants present their value menus to masses and find success. It is widely acknowledged that upon taking your family to a fast food joint, your wallet becomes $25 lighter. You did not experience quality or value, yet you still go. Why? Because they have successfully positioned themselves as a value meal replacement. Can we do a similar thing? Sure. Take your quality product and create a $9.99 menu. I am not advocating deep discounts. I am promoting that you take the time to ask yourself "What can I offer for 9.99?" This will give the perception that we are not only a quality product, but a value, too — and value is a top concern for consumers in a recession. Try to come up with five items: a small pizza plus sodas, a medium pizza, an XL pizza with a thin crust and lite cheese (lower food cost, health benefits) and so forth. Once we attract the price-conscious consumer, the sale comes naturally. Ask yourself, "Did I order from the value menu the last time I went to a fast food joint?" Another trend we see in fast casual is that $5.99 seems to be the magic number of what the market will bear for a meal. Once again, can we apply that to our operation? Can you offer a sandwich, chips and drink for $5.99? It doesn't have to be a steak or bacon. Why not ham, or a veggie, or a smaller version of one of your signature items? People are looking for an affordable way to get through these times without making major lifestyle changes. Position yourself to be a reasonable option, then work to increase their frequency as you gain top-of-mind awareness.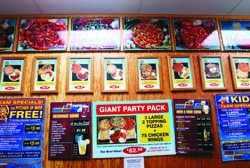 ? Consumer Appeal — Combo ads with perceived value still remain the most popular in our industry. It now takes a little more to get them in the door, though. Add a tag (or "bottom headline") to your ad. You may also have to communicate your message in more appealing ways. Take this short letter, for example: "Bring your kids to my pizzeria on Halloween and receive a 'treat' — plus, get your picture taken with our mascot (costumed employee … ). We will e-mail you a copy of the picture." Now, you have their e-mail address in your database. The marketing cost? Minimal. The same tactic can be applied to any holiday, and it's an excellent way to show some goodwill, create traffic, build a database and communicate your message in a very cost-effective way.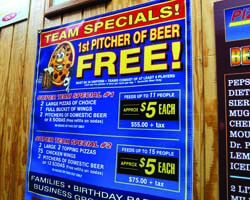 You – Zig Ziglar once alleged, "You cannot tailor-make the situations in life, but you can tailor-make the attitudes to fit those situations." The media is full of gloom and doom. Your positive attitude in the face of adversity will project to consumers that you are a thriving survivor. If you are not personally adding value, you are decreasing the profits of the company. Just remember that your pizzeria may not be all things to all people, but you can be all things to your customers if you put yourself in their shoes and adapt your persona to appeal to their interests. ?
Scott Anthony is a Fox's Pizza Den franchisee in Punxsutawney, Pennsylvania. He leads marketing seminars at International Pizza Expo and is a frequent contributor to Pizza Today.