How to celebrate National Pizza Month
Pizza Today has you covered this October
Let's collectively have the biggest pizza month ever and celebrate America's favorite food. This year has brought its challenges. There's no better time to celebrate PIZZA that right now. We've pulled together resources to help you mark the occasion and promote your National Pizza Month campaigns in your store, in the community, virtually and on social networks. October can be anything you make it. The tools and tips below are provided to assist you with your unique efforts to promote your pizzeria's National Pizza Month celebrations.
Blast the National Pizza Month hashtag on everything. Use the hashtag on social media posts, in store and on external marketing and promotional signage.
#nationalpizzamonth
Go further and add a unique hashtag specific to your brand to track its shares. Don't forget to tag @pizzatoday so we can follow your NPM campaign.
How to celebrate National Pizza Month VIRTUALLY.
Has the Delta variant of COVID-19 made you less likely to host big events? Check out six virtual marketing ideas:
Host a "Made-at-home Pizza Challenge". If you sell pizza kits, hold a contest to see who makes it best at home. Give them some guidance on what you need to see in the photo/video and have them post their masterpieces on social and tag your pizzeria. Winner receivers ____.
Virtual eating challenge. Get entrants to compete for t-shirts or other swag. Do a wall of fame.
Create a Bingo card for things that customers have experienced at your pizzeria. (Think menu items, limited specials, special events hosted, swag worn, etc.) Bingo cards on social have been very popular on social during the COVID-19 pandemic.
Host a Virtual Pizza History Trivia Night over one of the video chat platforms.
Run a customer recipe promotion. Invite your patrons to create your next big hit! Have customers submit recipes for topping combinations, etc. Winner gets the pizza named after them on your menu or free pizza for a year or a $500 gift card, etc.
Crown an Ultimate Pizza Fan by inviting customers to submit on social media why they should be the winner.
Create social, text or carryout games with a drawing where winner receives free item or offer. (Think small games, like guess the number of pepperonis on a pizza; guess the ingredient; answer questions related to your pizzeria; photo with a specific item social contest, etc.)
More Ways to Celebrate National Pizza Month
Get more low-cost to no-cost marketing ideas for your pizzeria make the most of National Pizza Month. Get the full list.
The skinny on National Pizza Month
Pizza Today's founder Gerry Durnell created the National Pizza Month observance in 1984 to mark the debut of the first issue of Pizza Today magazine. The U.S. Congress officially designated October as National Pizza Month in 1987.
Read Editor-in-Chief Jeremy White's Pizza History 101.
---
Download Marketing Assets for Your Pizzeria
√ — National Pizza Month Logo In Color
Download high-resolution PDF for printing
---
√ — National Pizza Month Logo In Black & White
Download high-resolution EPS for printing
---
√ — National Pizza Month Declaration Social Sharing Art/Images
We've created images to declare National Pizza Month for social sharing. Click to enlarge each image and drag it to your desktop or save to your mobile device.
---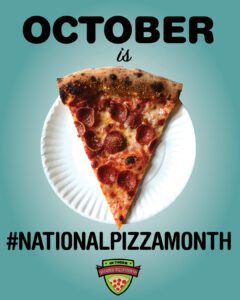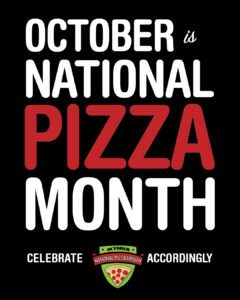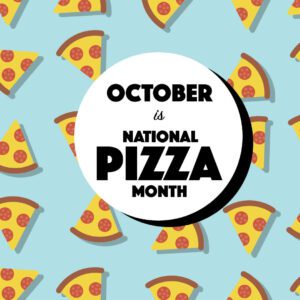 ---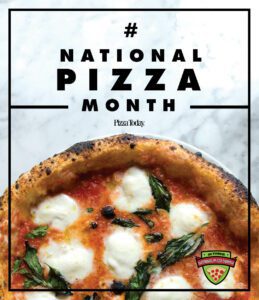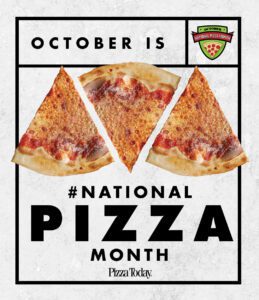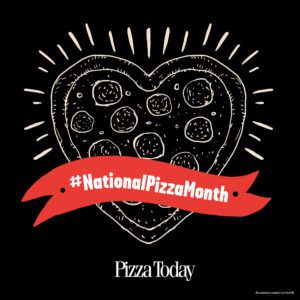 ---
√ — Customizable Media Release
We've provided you the framework to add in your specific information about your National Pizza Month festivities.
Download .doc (Microsoft Word 94 or later,)
Don't forget you can pitch your National Pizza Month event directly to reporters or even partner with traditional or digital media in your area. Take a look at this how-to on getting media coverage.
---
√ — Pizza-related Infographics 
Click each infographic to enlarge and drag it to your desktop or save to your mobile device.