Mark these national pizza holidays, food holidays and other observances on your calendar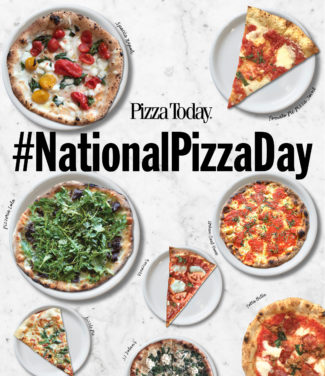 Everyone loves pizza. And fans love to celebrate their favorite food holidays.Sure, every day is pizza day for the pizzeria industry. Don't miss the opportunity to connect with customers for some of the biggest pizza holidays, like Pizza Margherita, pepperoni, sausage, cheese and National Pizza Month.
Let's look at 10 pizza days that you won't want to miss:
February 9
National Pizza Day
It's the day to celebrate America's favorite food.
March 14
National Pi Day
So it's math, not food. The date commemorates the mathematical constant Pi (3.14). It has become synonymous for celebrating all things round, especially pizza.
April 5
National Deep Dish Pizza Day
Chicago, this is your holiday, along with other areas that have adopted this thick pizza style. Chicago-style deep-dish pizza came into being in 1943 when two savvy entrepreneurs, Ike Sewell and Ric Riccardo, opened Pizzeria Uno on the corner of Wabash and Ohio.
May 19 (Third Friday)
National Pizza Party Day
"Ain't no party like a pizza party 'cause a pizza party won't stop." Each year, this pizza holiday falls on the third Friday in May.
June 11
Pizza Margherita Day
June 11 marks the anniversary of the naming of the Pizza Margherita — in a letter from the Italian "Department of the Mouth" on behalf of Queen Margherita on June 11, 1889, presented the pie that bears her name.
September 5
National Cheese Pizza Day
Celebrate the holy trinity of pizza: cheese, sauce and crust. It's the basis to which all other pizzas are judged.
September 20
National Pepperoni Pizza Day
The No. 1 pizza topping in America is deserving of its own day.
October
National Pizza Month
Pizza Today's founder Gerry Durnell created the National Pizza Month observance in 1984 to mark the debut of the first issue of Pizza Today magazine. The U.S. Congress officially designated October as National Pizza Month in 1987.
October 11
National Sausage Pizza Day
In a few areas, sausage vies for No. 1 pizza topping honors. Fans are passionate about their sausage pies. Give them their special day.
October 25
World Pizza Makers Day
We wouldn't have America's favorite food with the passionate pizzaioli who strive to make the best pizzas. Thank pizza makers everyday!
(BONUS) November 12
National Pizza with the Works except Anchovies Day
Other pizzas get their day, so should the works, deluxe, supreme, kitchen sink or whatever you call it.
Pizza is always a reason to celebrate. Share your pizza holiday love on social media and create unique hashtags for the occasion, as well as the main holiday tags.
Food Holidays You Should Have on Your Radar
Pizza holidays aren't the only days to celebrate. Almost everything on your menu has a special day! Check out the updated Pizzeria's Guide to Food Holidays to find occasions, like National Flour Month, National Drink Wine Day, National Gluten Free Day, National Meatball Day, National Italian Food Day, Repeal of Prohibition Day or National Garlic Month. Explore a list of food holidays by month.
January
9 — National Gluten Free Day (Second Monday)
2o — National Cheese Lovers Day
February
13 — National Italian Food Day
18 — National Drink Wine Day
March
9 — National Meatball Day
10 — National Ranch Dressing Day
20 — National Ravioli Day
April 
7 — National Beer Day
19 — National Garlic Day
May
15-21 — American Craft Beer Week
16 — National Barbecue Day
25 — National Wine Day
June
4 — National Cheese Day
27 — National Onion Day
July
29 — National Lasagna Day
29 — National Chicken Wing Day
August
20 — National Bacon Lovers Day
September
National Italian Cheese Month
National Mushroom Month
October
14 — National Dessert Day
15 — National Mushroom Day
17 — National Pasta Day
November
3 — National Sandwich Day
December 
4 — National Cookie Day
5 — Repeal of Prohibition Day