We're Back!
What you need to know to get you ready for the show
Next month, Pizza and Pasta Northeast returns after a two-year hiatus to make a big splash in Atlantic City on October 16-17. 
"The Northeast has the highest concentration of pizzerias and Italian restaurants in the U.S., so we're pulling out all the stops to make this biggest and best show ever," says Food Group Show Director Bill Oakley. "Based on the numbers to date, we're expecting a record attendance of more than 2,000 restaurateurs who will converge on the Atlantic City Convention Center to learn, network, shop and eat!"
We have a jam packed two days for pizzeria and Italian restaurant operators and crews to get the most out of their time. "As an attendee, one of your primary goals should be to maximize your return on investment, especially considering the huge impact COVID has had on pizzerias the last couple of years, particularly labor, supply chain issues and pricing," Oakley says. "Exhibitors and attendees alike will make a substantial investment of time and money and we're 100 percent committed to delivering a top-shelf tradeshow featuring more than a hundred industry specific suppliers and manufacturer and an innovative education program second to none." 
Let the Excitement Begin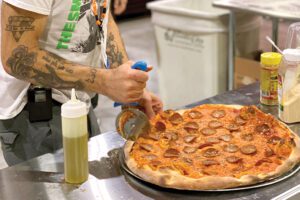 We're bringing a renewed energy to this year's Pizza & Pasta Northeast. "Pizza Expo 2022 was a great success this year and we're on track to deliver another exciting tradeshow experience filled with electricity that will reconnect the pizzeria community," Oakley says. "For this year's event we wanted to add a little more excitement, so we're introducing a new Calzone and Young Pizza Maker of the Year competitions, as well as a Happy Hour to close the show that we think will be a big hit. At this year's show attendees will have an opportunity to learn from renowned chefs, super successful pizzeria owners and industry experts that will help position their restaurants for future success. We feel attending Pizza & Pasta Northeast will be one of the best, if not the best, investments of time and money you'll make this year that should pay dividends for many years to come."
Learn from the Best at PPNE
This year's education lineup is second to none with comprehensive deep-dive workshops, industry sessions and demonstrations. "The sheer volume of amazing content directly from some of the most successful pizzeria owners in the industry give our conference program the reputation it has as the industry leader," Content Director and Editor In Chief Jeremy White says. "We take a lot of pride in putting our programs together and always ensure they are led by expert professionals who actually get what our attendees go through day to day. You don't find motivational speakers in our programs by design. We get into the nuts and bolts!"
It's never more important to stay on top of critical issues happening in restaurants than right now. "We're hearing from pizzeria owners that their most prominent concerns surround dealing with inflation, navigating the labor shortage and growing online ordering," White says. "So we are taking those topics directly head on with experienced, successful speakers. Then, of course, we're always going to cover dough concerns and provide a variety of on-point food demonstrations as those have proven over the years to be hugely popular because they translate to immediate action once our attendees return home to their pizza businesses."  
Attendees will leave Pizza & Pasta Northeast with more knowledge to make their restaurants better and more profitable. "Attendees will find a lot of value in this year's educational program at the Pizza & Pasta Northeast Show," White says. "They'll walk away from the program energized and armed with knowledge they can implement immediately to improve their businesses. The program is designed with their most pressing needs in mind, and the overwhelming majority of our speakers are in the trenches operating pizzerias every single day alongside our attendees. They get it."
Five tips to make the most of Pizza & Pasta Northeast
We're here to get you ready. Start planning your Pizza & Pasta Northeast experience now. Here are five tips:
Have a plan for the show floor. To make the most of your time in the exhibit hall, rank your priorities and map out a game plan.

   

Get to the competition areas. Cheer on competitors as they battle in Best of the Northeast, Northeast Pasta Showdown, World Calzone Championship and Young Pizza Maker. Competitions are a great spot to get inspiration for your next pizza, pasta or calzone sensation.

 

Don't skip the keynotes and seminars. Hear from the industry most influential thought leaders. Gain insights on online ordering, dough management, sales and branding strategies, hiring and retention best practices and more.

 

Get the App before you get to the show. Have the show at your fingertips. Watch for the App release at PizzaandPastaExpo.com.
Capitalize on every opportunity to network. We are an engaged community. Meet fellow restaurant pros. Discover their stories, ideas and even business pain points.