Pier Pressure
As I get ready for the Pizza and Pasta Northeast show in Atlantic City this coming October 16th, I've been thinking of that wonderful Atlantic Ocean breeze, the boardwalk and the smell of seafood… on pizza. In fact, Tony's Baltimore Grill here in AC has a Clams Casino Pizza that is a prime example of an exquisite East Coast Seafood Pizza. It's been on the menu since 1927 and has bacon, onion, green peppers and clams with their natural juice. Freshly grated pecorino soaks up that briny clam liquor with a layer of mozzarella finished with oregano. This is a delicious homage to their seaside location in Atlantic City.
Seafood paired with wheat has its roots buried in history across the globe. In the Venetian lagoons, creamed salt cod was spread on bread. The Scandinavians marinated herring in milk, mustard, vinegar, allspice, bay and onion and served it on Norwegian crispbreads or rye hardtack rings. The lime marinated mackerel and kingfish ceviche from the Yucatan offers all the citrusy heat from chilies and is served on tortillas. In Italy today, you may see pizzas named Frutti di Mare which are typically cheeseless with tomato and topped with squid, mussels and scampi. 
Wu Tang Clam
For many years, seafood pizzas were scoffed at by pizza purists as an abomination, especially if they contained cheeses. But along the East Coast of the United States, where seafood is plentiful, pizza chefs used many types of seafood on pizzas to awaiting crowds. In New York, the clams were so abundant in Little Neck Bay that prospectors moved to Queens just to harvest the clams to supply the iconic restaurants like Whytes on Fulton that served their famous soft clams on toast. The Sicilian version of Sfincioni was reportedly also served on Prince Street. In New Haven, the giant hard-shell clams baked on proprietary wheat crusts baked in coal-fired ovens with plenty of garlic, Romano cheese and extra virgin have catapulted pizzerias into hall of fame status. Down south, the white shrimp scampi pizzas of the South Carolina coast are still turning heads and the seafood pizzas in the Florida Keys are baked with shrimp, lobster, scallops and crab meat in a luscious Alfredo sauce.
The Gill of your Dreams
It's no secret that seafood pizzas are popular. Even in land-locked Ohio, I've brought on numerous seafood pizza specialties which are still on my menus today. Here a few tips to sell Atlantic seafood in your pizzeria.
Don't skimp on seafood. If you must make a seafood pizza smaller to reach your food cost vs. sales cost mark, then do it. No one likes a seafood skinflint or a large pizza with practically no seafood on it.
Try to use only fresh seafood. Pre-breaded seafood made on refrigerated assembly lines is terrible. Fresh frozen seafood like calamari and shrimp are best when using accredited ServeSafe thawing methods and training your staff to recognize bad seafood.
Market your seafood pizza using tried-and-true dishes. Great sauce and seafood combinations have been on people's radar for a long time. Running a line of Asian, Mexican, Spanish as well as Italian flavor profiles will sell more pizza because customers know them.
On Squid Row
Here is some wonderful seafood that has proven to be a delicious accompaniment to different wheat crusts and a variety of sauces and production methods.
Shrimp. Believe it or not, shrimp is a good seller on pizza if you can get a good "spread" across the pie. This is best done by cutting large shrimp in half horizontally. Smaller and krill shrimp cannot cover the top of a large pie very well and frozen krill shrimp smells way too strong. Preparations like Cajun etouffee, Mexican avocado shrimp, garlic shrimp, shrimp Alfredo and lemon cream shrimp pizza are game changers. Toppings like basil, garlic, bacon, arugula, beans, chili peppers, onions, mint, mustard, lemon, avocado, tomatoes, lime, beans, pistachio nuts and even crab are good with shrimp.
Smoked Salmon. This topping made famous in Wolfgang Puck's Spago can be served numerous ways on a pizza. This fish does not fare well in the oven, so by placing it atop the pizza, you will both save the flavor and color of the cure. Many foods go well with this fish like wasabi, sour cream, red onion, capers, hard-boiled egg, arugula, mascarpone, everything spice, avocado, horseradish crema, dill, cream cheese, chervil, chives, cilantro, lemon, potato, shallots, cucumber and mint.
Clams. Many East Coast pizzerias have well-earned reputations based on their clam pizzas. Many arguments occur on who has the best clam pie, but one thing stays true; using fresh clams is the key. Clams are best with garlic, Romano, extra virgin, tomato, bacon, shallots, cream, corn, chili peppers, potatoes, onions, parsley and lemon.
Calamari. This is a tricky topping. Grilled and sauteed squid will turn chewy like gum swimming atop cheese in a box. Ultra-crisp, deep-fried calamari is delicious on pizza, especially a charred, grilled crusted pie, but only if it can be served right away. Wonderful with flavored aiolis, tomato, parsley, lemon, bell peppers, garlic, black pepper, basil, orange and anchovies.
Tuna. (Yes, I'm gonna go there…) Along with the popularity of sushi and sashimi, comes the tuna topped pizza like the one at Yellowtail in Las Vegas or the Poke pizzas of Hawaii. This is probably not feasible on large pies but fantastic when thinly sliced, raw tuna is paired with a crisp crust and toppings like, cilantro, microgreens, truffle oils, wasabi, dried shrimp, crème fraiche, cream cheese, teriyaki, hoisin, tortilla crisps, red onion, corn, avocado, arugula, cumin, scallion, sesame oil, lemon, chili peppers and chives. Tinned tuna is also very good. My "Hot Tuna" Pizza named after the Rock and Roll Hall of Famer Jorma Kaukonen, (and my neighbor) has been on my menu for 15 years. 
East Coast Clam Pizza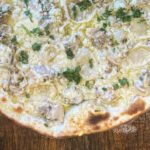 I just adore the combination of a great crisp crust with lots of fresh-shucked clams, garlic, strong, salty cheese and my pie-hole. This is a giant nod to all those great East Coast pizzerias that have been making this simple masterpiece for years. 
Get the East Coast Clam Pizza recipe.