Introduce new wow starters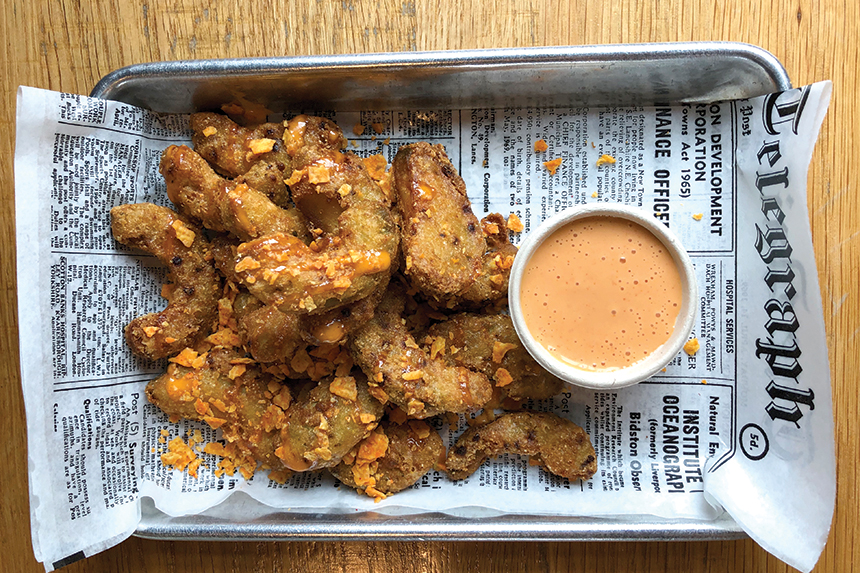 When Pizza Today's 2019 Independent Pizzeria of Year chef/owner Nick Strawhecker of Dante presented us with a spread of shareable delicacies, I knew we were in for a special treat during a visit to sister restaurant, Forno, in Omaha.
Strawhecker detailed how he had discovered the appetizer while strolling a side street in the Emilia Romagna region of Italy. Tigelle is a flatbread similar to the English muffin that is served with a variety of American and Italian meats, cheese, pickled or roasted vegetables and unique condiments. The tigelle's food cost is high but so is its priced tag. A half order is $25 and full order is $39, prices that are in keeping with a casual, fine-dining restaurant. It's a rare item that has a story that sells, making it a popular menu item at Forno.
Not all appetizers are universal. What works for a small-town mom and pop shop may not work for a fine-dining restaurant. The key is finding the niche that works for your market, can be prepared by your staff and falls in line with your food costing and sales goals.
Breadsticks, garlic knots and wings aren't going out of fashion on appetizer menus anytime soon. What are some interesting apps that customers will crave, while increasing check averages? Let's look at produce, cheese and protein apps to test in your kitchen.
Ripe for the Pickin'
Produce has taken a starring role on menus, so says the National Restaurant Association's "What's Hot Culinary Forecast". Let them stand alone on your app offerings.
I was more than skeptical when a friend ordered a cauliflower appetizer for the table. To be honest, I've never liked cauliflower. It arrived as the whole head, charred to perfection, with capers, chili flakes, lemon squeezed over the top and served with a caper/lemon mustard. It was so simple, yet so divine. This one appetizer has made me a believer and was a catalyst in my latest veggie app devouring ventures. Here are some other vegetables shining solo on app menus:
• Fried green tomatoes or fried green beans. Give them a basic cornmeal breading and pair them with a creamy dipping sauce, like Remoulade or spicy garlic aioli.
• French fries. This lackluster side can be transformed into a must-have app. First, test the right fry style. Is your pizzeria a steak, crinkle, shoestring or homestyle fries kind of place? Toss fries in unique flavoring like cilantro, lime and adobo seasoning or lemon, garlic, parsley and Parmesan. Get just as creative with a few specialty condiments.
• Avocado fries. Curiosity will pique customers' interests and the flavor will keep them returning for more. Get the Avocado Fries recipe.
• House-pickled vegetables. Dill is not the only way to pickle. Go classic with Giardiniera style or go wild with adventurous herbs, spices and sugar.
Say "Cheese"
You've painstakingly selected every cheese in your restaurant. Showcase a few in a major way on your starters menu.
• Burrata. It is hot right now and it sells itself with its soft exterior and creamy interior. Let it stand out on a bed of basil and drizzled with extra virgin olive oil and a pinch of sea salt or serve it with roasted peaches and pistachio pesto.   
• Goat cheese. Bake or whipped with lemon, rosemary and garlic, goat cheese is an ideal spread for crostini.
• Mozzarella. Think mozz bar. Showcase your fresh mozzarella and burrata, accompanied by roasted cherry tomatoes and prosciutto.
If you have a killer craft beer menu, why not work with your restaurant beer guru to create a one-of-a-kind beer cheese featuring a local or specialty craft beer on draft? Serve it with a warm, house-made pretzel.
Nice to Meat You
Take traditional Italian appetizers and apply new spins on them. Mix up the following Italian favorites:
• Meatballs. Change the look of everyone's favorite meatballs by going with pork or chicken and a Parmesan cream sauce.
• Fried calamari. The classic can become Tempura fried calamari by changing the breading. Get the Tempura Fried Calamari recipe.
Denise Greer is Executive Editor at Pizza Today.