The clock has yet to strike 9:30 a.m., but Shawn Crowley and a handful of staff members fill the kitchen of Hickory Tree Pizza in Chatham, New Jersey. The group has been hard at work for nearly an hour, making pizzas that local school children will soon gobble up. During the school year, the frenzied process is a regular occurrence inside Hickory Tree. Each day, Crowley's pizzeria delivers 10 to 20 pizzas to Chatham High School; every Wednesday, the restaurant's signature pies hit the town's lone middle school; and once a month, Crowley's pizzas land in the hands of children at the town's four grammar schools. "The more places you are with your name and product, the better," reasons Crowley, who inherited the Chatham school district's pizza contract when he purchased the already established Hickory Tree in November 2000. The school district's "content with having us and we're thrilled to be in there ourselves."
For many pizzerias like Hickory Tree, a school contract holds enticing promise. Operators like Crowley who've landed such deals reap the revenue of a regular bulk-ordering customer as well as ancillary benefits, including name recognition and community support. "It's a partnership that benefits us in a number of ways, from advertising and promotions to bulk orders from a customer who pays," says Crowley, who has established pizza partnerships with two local private schools as well.
While landing a school contract is often a win win- win for all involved — kids get pizza, school districts receive product and a price break and operators earn profit —the relationship doesn't come without its hurdles. From stringent product specifications to firm price points and sometimes even politics, public school district can be resolute partners, defining everything from temperature to mozzarella usage.
In the Jefferson County Public School District, which covers 150 schools in a Kentucky county some 40 miles across, Papa John's holds that district's pizza vendor contract, a deal which saw the Louisville-based chain deliver over 212,000 pizzas to the district's 44 middle and high schools during the 2007-2008 school year.
Yet, Papa Johns' pizzas must meet a litany of criteria, a common facet of any public school food contract. A 14-inch pepperoni pizza, for instance, must use a minimum of 19.5 ounces of dough, two ounces of fully cooked pepperoni slices, eight ounces of cheese and six ounces of tomato sauce before being cut into eight equal slices. All pizzas must be delivered within 20 minutes at a minimum temperature of 145 F. "With the size of our district, we need a vendor who can meet our nutrition requirements as well as our preparation and delivery conditions," Jefferson Country School District representative Cheryl Sturgeon says. Back in New Jersey, Crowley cannot use egg or peanut oil per district guidelines. He even goes so far as popping bubbles on the pizza so each pie cooks even. "It's simply not worth taking the chance of sending them a pizza they might not like," he says. While Jefferson County sits on one end of the spectrum as one of the nation's 15 largest school districts with regards to food service, virtually eliminating any independent from securing the deal, some schools are turning toward a more grassroots, locally flavored partnership.
Schools and restaurant operators in Anchorage, Alaska, benefit from the Anchorage School Business Partnerships program, an 18-year-old arrangement that seeks to connect individual schools and local businesses. As principal of North Star Elementary School, Marcus Wilson has the ability to solicit bids on partnership deals, including his school's pizza provider. For the 2008-09 school year, Wilson's school paired with the Great Alaska Pizza Company. Other Anchorage schools teamed with local independents as well as national names such as Domino's and Little Caesars.
"I have to imagine it's valuable for these businesses to get into schools like this and expose kids to their brand," Wilson says. In Florham Park, New Jersey, the local Parent Teacher Association handles food contracts, favoring the goods produced by local establishments. The district's 1,000 students enjoy food from nine local restaurants, including pizza from Main Street Subs in neighboring Madison, New Jersey.
"This relationship exposes us to an area that we might not have any exposure to. Some of these kids only eat pizza here because of our place in the schools," says Main Street owner Ralph Artigliere, who delivers approximately 150 pizzas each week to two elementary schools and one middle school.
Whether a school district or a PTA, an operator seeking a school contract must first identify the access point. Many schools have outside vendors who run the cafeteria, in which case an operator might have to approach that company's regional office. If the contract is held by the school district, a bidding process is likely. In other cases, such as Anchorage and Florham Park, persuasion and PR might go a long way.
"In all cases, find out who is running the cafeteria and do your promotion at that level," says Artigliere. "Know what criteria you have to meet and be honest with yourself if you can handle the demands." ?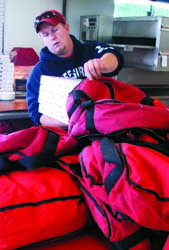 Balancing added revenue, increased labor, and the golden rules of a school district partnership
While the revenue generated by a school contract may seem favorable, Hickory Tree's Crowley reminds that the relationship requires a hefty investment and warns against an overly optimistic view. Most pizzerias with school contracts discount the product and increase labor, a reality that has Crowley analyzing the relationship and its margins each year.
"When you spend this much on an investment, you want to make sure you're getting a return," he says. "School contracts work the way of the whole world — we don't want to give it away and they want to pay as little as possible. Thankfully, we've been able to find that middle ground."
With the contract in hand, pizzerias must consistently remain mindful of the district's requirements and understand the relationship's two golden tenants. "All of the schools pretty much want the same thing: a good price and reliable delivery," Crowley says. "An operator working with schools can never forget that."
Chicago-based writer Daniel P. Smith has covered business issues and best practices for a variety of trade publications, newspapers, and magazines.