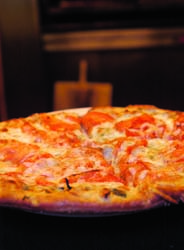 Bill Jacobs knows the economy of the United States has been ailing for a woefully long time, but there's been no evidence of it in his pizzeria. Piece, a standout restaurant and brewery in Chicago's Wicker Park neighborhood, finished 2008 impressively: sales were up 28 percent over 2007. So far, in 2009, Jacobs' business has climbed 15 percent over the same period a year ago. How? For starters, Jacobs opened an ancillary delivery store at the end of '07. Created to meet the demands of a neighborhood hungry for door service, Piece Out — which occupies 1,400 square feet adjacent to the original dine-in location — accounted for $1.2 million in sales in 2008. Prior to opening the second unit, Piece simply did not have the capacity to deliver, says Jacobs.
"We saw that we had an opportunity to move into the space next door, so we were like, 'Yeah, let's go for it'", Jacobs says. "It's been an absolute dream." Since opening in 2001, Piece has built a strong reputation in the Windy City, and not just on its North Side, either. "We're delivering down to the loop, too," Jacobs says. "So we're really pushing our deliveries. It's really easy for us, though, because the Kennedy (Expressway) is right here. It takes us less than 15 minutes to get to the offices."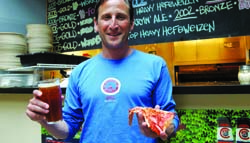 While opening Piece Out undoubtedly helped boost the company's revenue, there are other factors in the growth as well. In the case of Piece, creative, persistent marketing and savvy management are the drivers. "Since we've opened in 2001, our sales have gone up exponentially every year," says Jacobs. "We're seven-and-a-half years into it, and we're still seeing big growth. We compare our sales every night, every week, every period. We sit down and get our numbers every night and see exactly where we are compared to the same day last year. We monitor it very, very closely." In fact, on Pizza Today's visit to Chicago on April 15, Jacobs knew off the top of his head exactly what volume the restaurant achieved the night before. "Last night we had a band. We usually don't have a band on Tuesdays, but we had one last night and we did a little over $8,900," he says. "Last year on the same day we did $6,700. So we were up over $2,000 on just this one night. And then Piece Out did $2,000 last night, so we did over $10,000 in sales between the two places on a Tuesday night."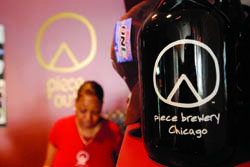 That's big-time volume, but it's nothing new to Piece. The original store recorded $3.6 million in sales in 2008. "We did $4.8 (million) last year total," Jacobs says. "The thing is, when we opened the other place, pizza sales went way up. But our sales here (in the dine-in location) went up, too. Piece Out has been good in terms of helping to increase our capacity here. We were also able to put in more cooler space, which we needed." (Piece makes between 600 and 900 dough balls per day in its kitchen, depending on the specific day of the week.)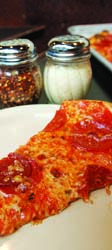 Piece Out is open Wednesday through Sunday. On Mondays and Tuesdays, delivery orders are handled out of the original store. "We base it on our volume," explains Jacobs. "But if we have a big day coming — for example, we knew that last year the March Madness final would be a big day, so we opened up this kitchen even though it was a Monday."
Of course, the beer angle can't be overlooked, either. Far from being just a pizzeria, Piece's dedication to the art and craft of brewing is second to none. Master Brewer Jonathan Cutler says Piece makes approximately 75 different beers, eight of which are constantly on tap. "We rotate them out," he explains. "Throughout the year, we'll change them out based on the season, what's ready, etc. Depending on the beer, it's in the fermenter from two weeks to four weeks. We're so busy and we have so much volume that we're always busy getting the next batch ready back here." Piece's beer is stored at 36 F, though Cutler says "it's going to warm up to about 38 degrees once you get it in your hand."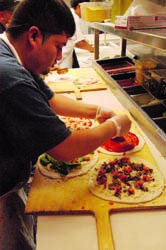 On the day we visited, Cutler was readying a Hefeweizen. A popular beer, to be sure, but the top mover at Piece is the Golden Arm. "We've actually won awards at the World Beer Cup and the Great American Beer Festival with that beer, but I'm not sure if we sell the most of it because it's a good Kolsch, or if it's because it's our lightest beer," says Cutler. Either way, it's a perfect complement to the New Haven-style pizzas served at Piece. Irregularly shaped and wafer thin at just 1?8 of an inch, the pizzas are unlike anything else available in Chicago. It's a point of difference — one that is critical in today's marketplace and is so hard to find. And it, along with the beer, is the reason Piece got a boost in the local press in 2008.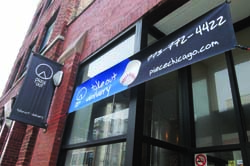 "Last year in October, on Halloween weekend, we were on a dining program called "Check, Please." It's a local public television show here in Chicago," says Jacobs. "The show takes three people and asks each of them to select their favorite restaurant. Then, each one of them goes into the restaurant and reviews it. Afterwards they all do a round-table discussion. One of the people chose Piece, and we got a rave review. The place got swamped as a result. All things being relative, we were pretty busy to begin with, but we've been even busier after being on "Check, Please." (You can view the segment on Piece's Web site, www. piecechicago.com.)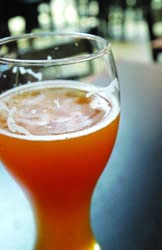 The positive impact of receiving stellar reviews on "Check, Please" is still being felt. Jacobs says he monitors online reviews of Piece, which are overwhelmingly positive. When there is a complaint, it's the kind any restaurant owner would love to have. "The biggest criticism is how busy it is in here," he says. "As a result, people who read these things often try to come in here at a time when it's not going to be so busy. So our lunch business really increased over time as a result of that. That's something that, of course, we'd love to continue to see more of. You're always happy to have a big lunch crowd, and we've been holding really steady at lunch and doing well."
Jeremy White is editor-in-chief at Pizza Today.