When Dallas-based Pizza Patron opened its newest location in San Antonio in October 2008, the chain called it its quick service pizza concept, or QSP. The restaurant has a drive-thru window and an outdoor menu board. Customers order by speaking into a microphone, then drive a few more feet to a window to pick up their pizza. Andrew Gamm, director of brand development for the growing chain (which is approaching 100 units at the time of this writing), says the company wants to change the way people buy pizza. "Our goal is to deliver drive-thru service that rivals the non-pizza QSR segment," he says.
While drive-thrus are common among burger and other quick service restaurants, few pizza operators offer customers the convenience of ordering pizza, then not having to leave their cars to pick it up. Pizza takes 15 minutes or longer to cook, an amount of time that drive-thru consumers might not tolerate. They're accustomed to filling their orders in two or three minutes.
Pizza Patron handled the speed of service issue by working with a company to develop an oven that bakes a pie in four minutes. The restaurant also narrowed the drive-thru choices to about five menu items. "Quickness and efficiency supersede customization," Gamm says.
For most other pizza operators, drive-thru means the customer orders by phone or online, then drives to the restaurant to pick up the food at a window. That method is one way to encourage people to pick up their pizzas, instead of having the restaurant deliver. "You can reduce expenses by putting in a window," says Mark Ulrey, owner of the six-unit Flyer's Pizza & Subs in Columbus, Ohio. The reduced expenses come from hiring fewer delivery drivers, and possibly having lower insurance costs and other costs associated with delivery. Four of the Flyer's locations offer drive-thru service, which accounts for about 35 percent of those stores' sales. "Most of that business has been taken away from delivery," says Ulrey.
Additionally, he notes, there are expenses associated with drive-thru. The location has to be a standalone or an end cap building. "Those cost a couple more dollars per square foot," he says. Two Flyer's locations are end cap and two are standalone. There are other building requirements. The window has to be big enough to accommodate an 18-inch pizza box. That's larger than a drive thru window at a burger place. The work area near the window needs to have its own cash register. The kitchen might need to be redesigned to put the staging area or the holding area closer to the window.
There's also technology to alert workers that a car has pulled into the drive thru area. That could be a magnet system built into the pavement, similar to sensors that trigger a traffic light, or an ultrasonic detector that sends a high frequency sound and then detects when the sound bounces off a car.
Daren Haas is vice president of marketing and new business development for HM Electronics (HME), a Poway, California-based company that makes ultrasonic detectors and other drive-thru related technology such as headsets and timers. He says new technology will make it easier for restaurants to expand their drive-thru processes. "You can get an embedded RFID tag in your credit card or cell phone so you can tap and go for payment, and there's also cell phone and online ordering that stores your preferences," he explains.
Haas adds that, in general, some areas are more likely to see expanded drive-thru than others. "In Texas, New Mexico, Arizona, and other open spaces, it's huge. It's almost non existent in California because of zoning laws and real estate is very expensive."
Some drive-thru locations are low tech. Kim Trotta, whose husband opened Trotta's Pizza and Drive-Thru in Cincinnati in 1996, says Trotta's is in a building that used to be a car wash. "Some of the drive-thrus here are in old barns," she says. "Ours is very attractive." The area has businesses that sell donuts, fast food, groceries, even beer and wine through drive-thru windows.
Columbus, Ohio-based Donatos has 176 locations. Spokesperson Tom Santor says more than 70 percent have drive-thru windows, and in those locations, drive-thru accounts for 15 to 20 percent of sales. One challenge is to educate customers about the drive-thru option. "The biggest thing is just the nomenclature of it," he says. "On the back of our menu, we have a telephone icon and we refer to the call-ahead drive-thru window." The information is on the Donatos Web site too.
Ulrey says Flyer's staff lets customers know they can pick up orders at a window. "You educate them," he says. "On the phone we say, 'Is this going to be pickup, delivery or drive-thru?' " Direct mail pieces also mention the drive-thru. Gamm says opening the QSP entailed changing the mindset of Pizza Patron employees. Many were used to customers calling, then waiting for delivery or arriving twenty minutes later. "Now an order comes in and the clock is running," he says. "You have a few minutes to get it done."
The chain plans to open more QSP locations. The next one will be in a former Popeye's Chicken location that has a drive-thru. Gamm says the new format gives the chain more options in site selection. "We can get into real estate that wouldn't work with our model previously," he says. "It's only going to get better. We are very optimistic about growth." ?
Talk to the Sign "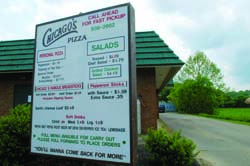 Drive-thru customers want to speak to someone or something. That's not because they have a complaint, but because they are used to yelling into a microphone to place an order. Unfortunately for these frequent users of drive thru fast food, the pizza drive-thru is different. With pizza, "drive-thru" usually means "call or order online, then pick up at a window." There is no microphone outside.
"It's a long term ongoing education," says Tom Santor, spokesperson for Columbus, Ohio-based Donatos. "They drive up and ask, 'Do I talk into this sign?' "
Kim Trotta, of the family owned Trotta's Pizza and Drive-Thru in Cincinnati, Ohio, says she has seen a few people talk to the signage outside the building, a former car wash. "When you first proceed into the entrance of the drive-thru, there is a small sign that says our hours. It's funny … sometimes people talk into it. We let them talk into it, then we walk over to them."
Nora Caley is a freelance writer specializing in food and business topics. She lives in Denver, Colorado